Information requests
1. Is there a map of the 2 wards associated with Cambridge?
Yes, the two wards for Cambridge community board are Cambridge Ward and Maungatautari Ward.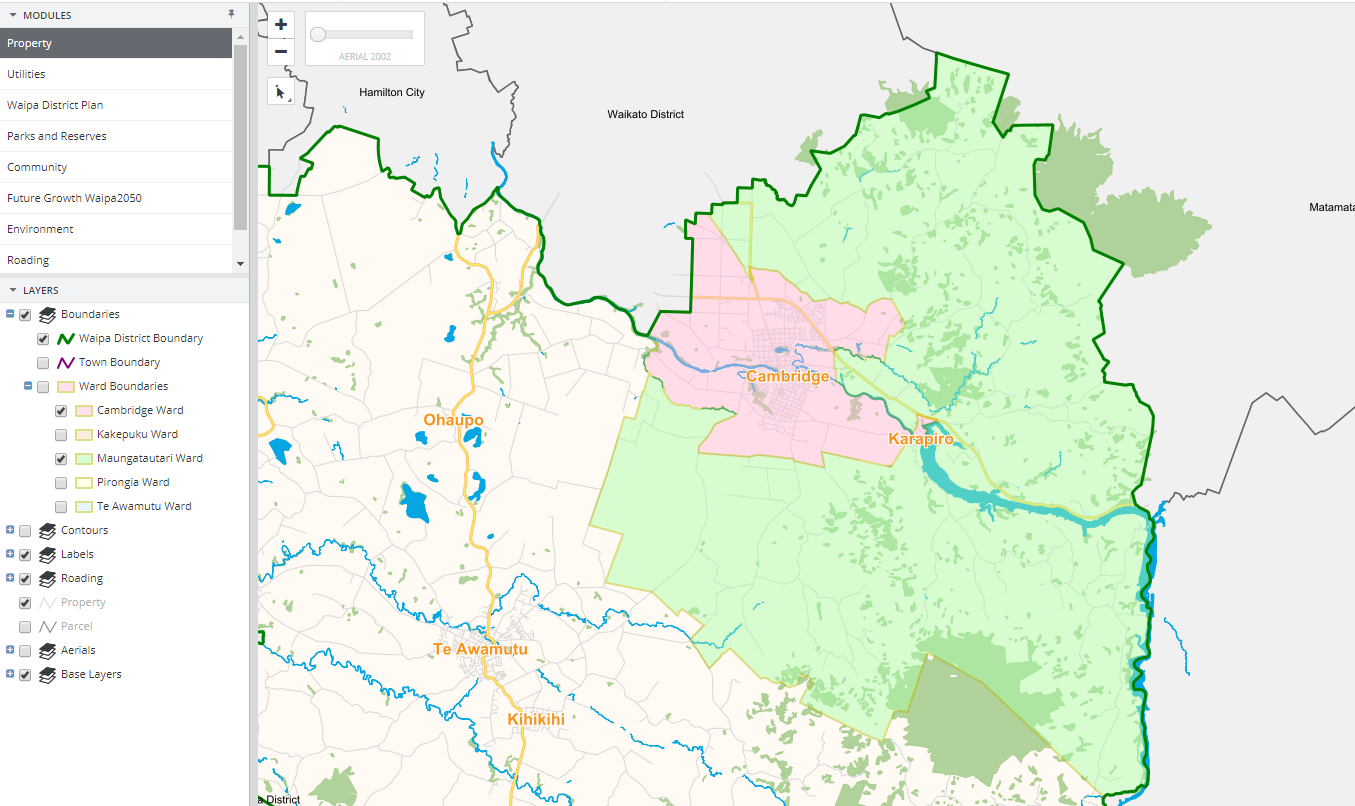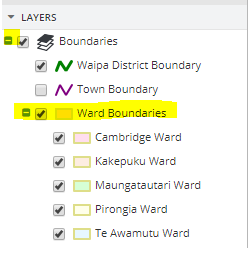 You can view ward maps in more detail using our online map tool.
Click on the + symbol next to 'Boundaries'.
Click on the + symbol next to 'Wards'.
Check the boxes of the wards you wish to view.
2. Can you provide any info regarding the % of total votes received by WDC per day after delivery of voting papers until close of voting?
Yes we will be providing the percentage of votes received per day when the voting period opens. This will be available on our main election page. 2016 LG election returns are here: 2016 LG Elections returns (includes states for 2013, 2010).pdf.
3. What is Waipa District Council's credit rating?
Waipa District Council received a AA- 'Stable Outlook' rating from Fitch Ratings in June. Read the full report here.
4. When is a footpath going out along Cambridge/Hamilton road towards the Te Awa retirement village. Are you able to tell me what year that might be going in?
We have survey and new aerial photography here and are working currently to assess design options for the new intersection that will go beside Te Awa and provide access to new residential areas north and south of Cambridge Road. The design options will include the form of the Cambridge Road from Te Awa back to town including the cycle path. We expect to have this information in early October. At the same time we have been working with other developers along this route to ensure the cycle path is incorporated in their development designs.
From there we will engage with all the key stakeholders, make sure everyone is happy with option recommendations before completing the construction detail.
If all goes smoothly then we expect some of the path construction could be underway within 12 months and perhaps completed within 2 years, however as this is closely linked to a larger development, any delays in purchasing land or otherwise have the ability to delay completion.
5. What is the current targeted rate levy as a percentage against total rate take??
Targeted rates, including rates for water, stormwater, sewerage, halls, recycling, capital works and ward rates for the 19/20 year is 42.9% of total rates.
These targeted rates can be either a uniform (fixed $ amount) rate per property or based on the capital value of the property.
| | |
| --- | --- |
| Rate Type | Cost ($) |
| Stormwater – targeted to urban and rural, capital value rate | 3,928,828 |
| Sewerage – targeted pan charges and serviceable / not connected, uniform amounts | 8,291,996 |
| Halls including town Halls – targeted localised charges, uniform amounts | 293,918 |
| Cambridge Community Sports Hall – targeted localised charge, uniform amount | 89,172 |
| Capital Works – targeted localised rate, capital value rate | 94,555 |
| Targeted Ward Rate – targeted localised rate, uniform amount differentiated amount per ward | 5,686,295 |
| Recycling – targeted to households only, uniform amount | 1,714,446 |
| Water – targeted to users and serviceable, not connected properties, predominantly rate per cubic metre | 11,425,567 |
| UAGC – general rate on all properties, uniform amount | 16,743,492 |
| General Rate – general rate for all properties, capital value rate | 25,225,502 |
| Total Rates including metered water | 73,493,771 |
In regard to the 30% rating cap on uniform (fixed dollar amount) rates, for the 19/20 year we are at 25% compared to the 30% cap, noting there's special provisions around inclusion / exclusion of water and sewerage rates, and the targeted ward rate, in the cap calculations.
6. Is there a mechanism that allows council to levy a property outside the rates mechanism??
No. Rates are the mechanism that allow Council to levy a property directly in a legally enforceable way. Within that, we have a variety of ways of setting rates which can be on capital value, or for a set $ amount per property. They can be generally applied across the whole district, or they can be targeted to a sub-set of the community.
7. The museum capital expense was touted as 7.2 million as per TA Courier and no more information has ever been released re more expenditure? Yet report shows 14.6 million?
This reflects the value as per the 2018-28 10-Year Plan for Council's contribution towards the building of the Discovery Centre (now known as Te Ara Wai). The capital cost of the building was estimated at $12.1m with external funding at $5m.
The $14.6m in the pre-election report includes both operating and capital costs relating to the design and build, the heritage showcase sites and the Te Awamutu hub development relating to Te Ara Wai over the next 4 years.
8. Waipa Post 13 August states and I quote " $126 million annual capital spend", surely this would be incorrect? If incorrect would you please put in a correction?
The capital expenditure in the 2019/20 Annual Plan is $127.7 million. The 2018-28 10-Year Plan indicates $745.1 million of capital spend over the 10 years. This includes capital relating to the growth of the district.
9. I saw the staff numbers as 300, this means that since 2010 there has been an increase of more than 45% in numbers? What departments had that increase? I remember that with the restructure in 2009 the aim was to reduce, not increase the numbers. I'm aware of central government wanting more and more but 45%?
2019 our staff headcount rose from 237 employees to 299 employees, an increase of 62
employees.
The areas / teams in which those staff numbers increased (including in some cases new
teams as noted) are identified in the table below:
Headcount increase between December 2014 and June 2019, includes newteams
Finance and Revenue
Information Services

Governance

Property

Business Improvement & Risk Management (new)

Admin Resource – Business Support Group

Executive Team

HR

Communications and Engagement

Community Facilities

Building Compliance

Customer Support

Development Engineering

Environmental Services

Planning & Regulatory

Library

Project Delivery (new)

Waikato Road Asset Technical Accord (RATA) (new)

Road Corridor (Transportation)

Admin Resource – Service Delivery Group
10. As per website 22mill contract has been awarded to do the Waikeria link. Per pre-election report the $ showing is 23mill plus. Can it can be confirmed actual to be paid by WDC and what is paid via Waikeria? Presumption is made that the job costs 22mill in total? Would be nice to know net balance for the ratepayers.
The Waikeria link project is being funded by Waipa District Council and by the Corrections Department. Waipa District Council is funding $4.25 million with the balance being funded by the Corrections Department. The Council portion of the funding was for upgrading our network to cater for growth in the area.
11. Can it be confirmed that all candidates have received the info? Just a quick query on your replies, the 14.6 mill is the net figure if 5 mill have been funded eternally? Nowhere in the pre-election report, especially on page 2, are the 5 mill external funding mentioned. Conclusion therefore is that the minimum cost is tagged at 14.6 plus whatever balance is not external funded. Also my perceived thinking is that the purchase and decontamination of the building/site is excluded?
During the triannual election process, responses to information requested by candidates is released to all electoral candidates. The $14.6m indicated in the Election report over the 4 year period is a gross value which includes an estimated $5m external funding. The value includes costs to purchase land for the TAW Hub development.