War Memorial Park Concept Plan

The final War Memorial Park Concept Plan was adopted by the Strategic Planning and Policy Committee on 1 June 2021.
Check out the final War Memorial Park concept plan in full here!
What does the concept plan include?
The concept plan inform and guide the management, maintenance and repair of War Memorial Park's heritage features.
Amenity planting plans, schedules and maintenance plans for the gardens associated with all Heritage Features, contributing to the reserves sense of place and identity.
Planting selected for optimum growing conditions and to not require an unnecessary amount of maintenance to get it established or for it to thrive in the long-term.
Interpretation signage to be designed and implemented for each heritage feature in collaboration with the Te Awamutu Returned and Services Association (RSA), mana whenua and key stakeholders.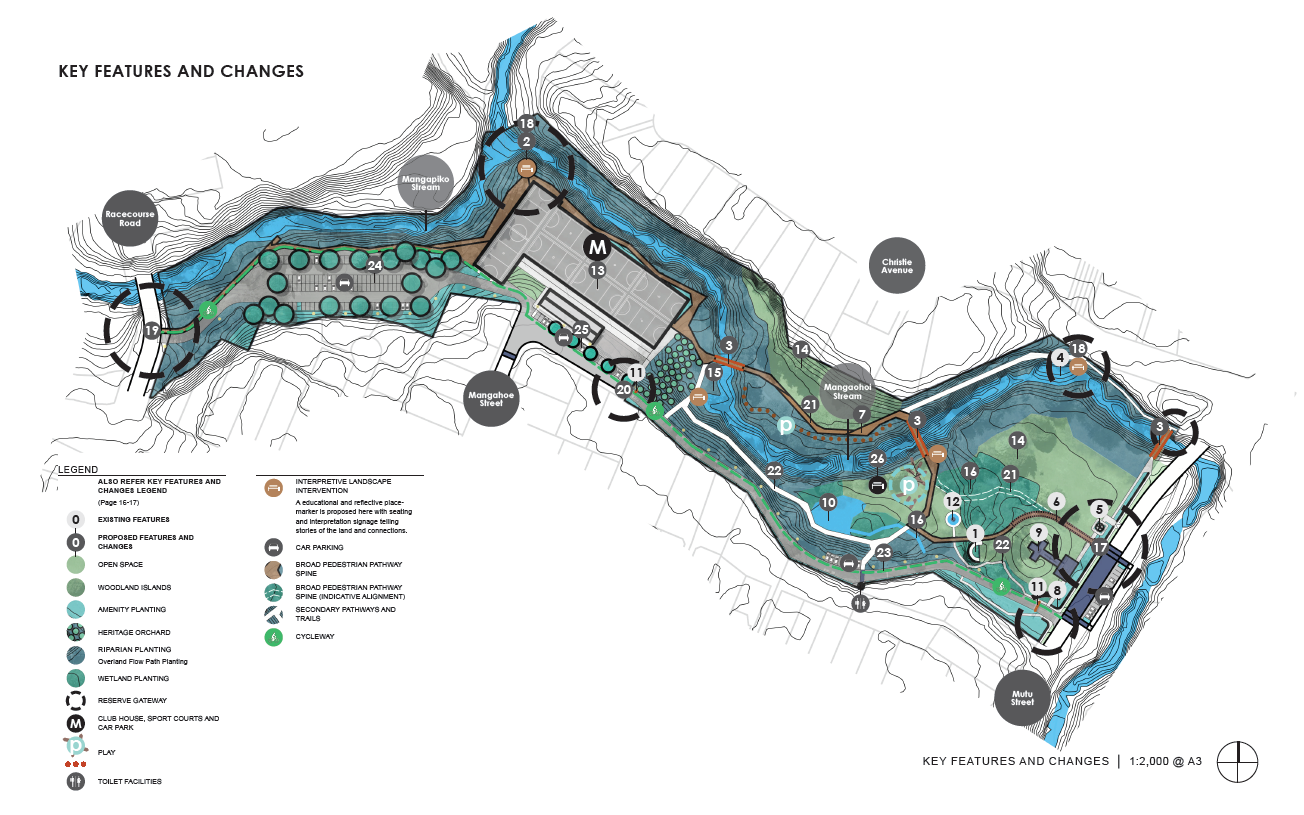 Here's a brief overview of the projects in the final plan
HERITAGE
HISTORIC RELIEF SCULPTURE WALL
No changes to the existing Historic Relief Sculpture Wall Panel however the concrete on the ground to the front of the panel will be removed to expose the puna (spring) underneath in a process called 'daylighting'.
MANGAOHOI AND MANGAPIKO STREAM CONFLUENCE
A new educational and reflective gathering place created where the Mangaohoi and Mangapiko streams meet, with access down to the water to restore identity and connection to place.
Below is an artistic impression of daylighting and the gathering place at the stream confluence: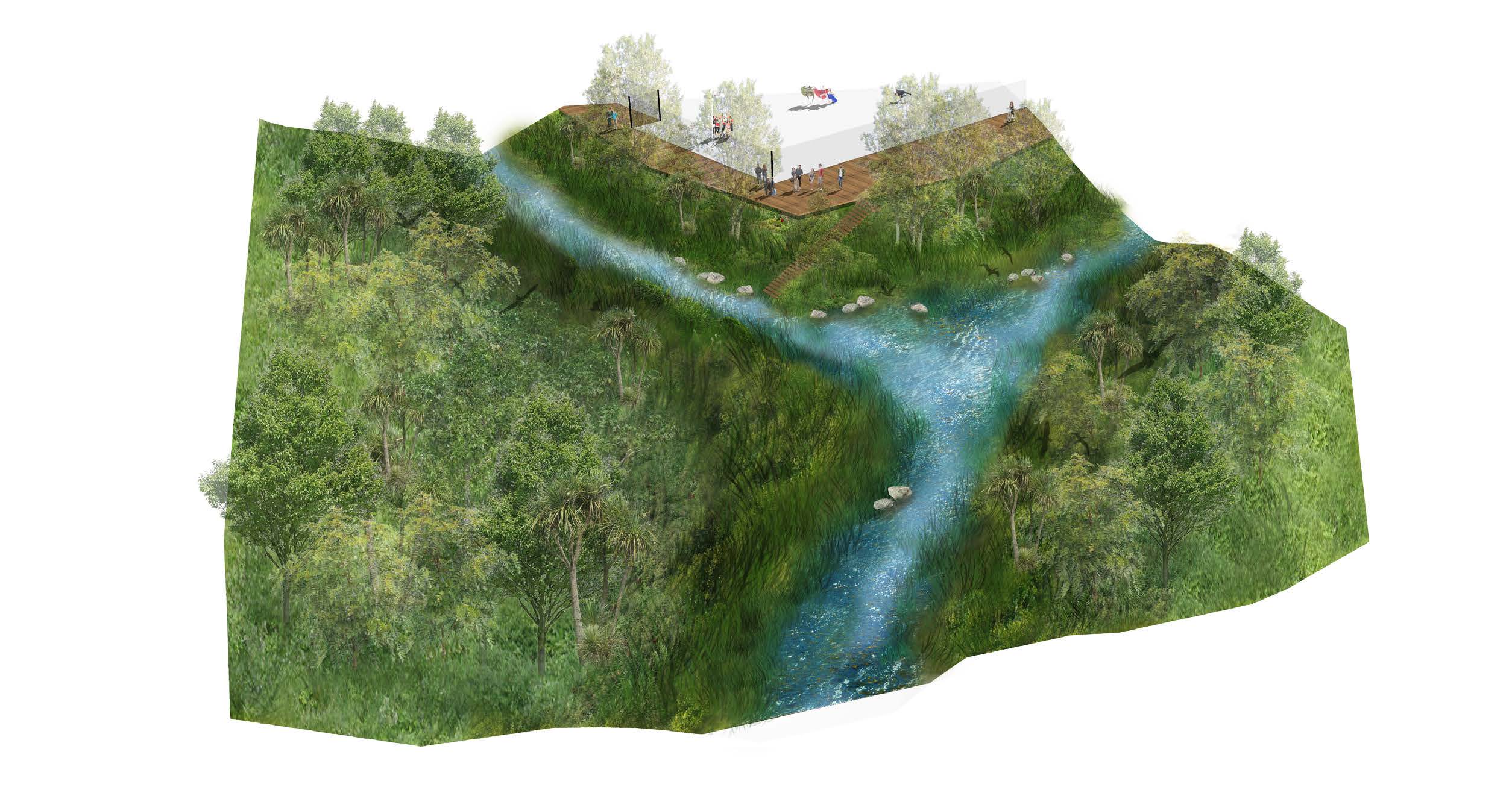 MANGAOHOI STREAM BRIDGES
Reinstate the three bridges crossing the Mangaohoi Stream which commemorate the New Zealand Army (Papatūānuku), the Royal New Zealand Air Force (Ranginui) and the Royal New Zealand Navy (Tangaroa), designed in collaboration with the Te Awamutu Returned and Services Association (RSA) and mana whenua.
PĀ TUNA
A new educational and reflective place-marker with seating and interpretation signage.
PERFUMED GARDEN AND GAZEBO
Improve maintenance of the protected gazebo and garden.
PERGOLA
Retain the existing Pergola and create an off-shoot pathway that will connect through the Fernery to the Play Space, Pavilion Function Space and Pedestrian (Royal New Zealand Air Force, Ranginui) Bridge.
PIONEER WALK
Extend Pioneer Walkway through Memorial Park, past the Te Awamutu Netball Centre, to Eileen Montefiore Reserve on Racecourse Road.
STONE WALL
Extend the existing Stone Wall along Mutu Street and improve maintenance of it.
TE AWAMUTU AND DISTRICT WAR MEMORIAL
No changes to the sunken memorial garden in the shape of a cross dedicated to the men and women of the area that served during the second World War (1939-45).
POND
Reduce the size of the existing pond to one-third of its size to expose the existing groundwater and puna (spring). Include wetland plantings on the edge to create a natural edge and create better conditions to treat pond water with a view to improve water quality.
TE AWAMUTU AND DISTRICT WAR MEMORIAL GATEWAYS AND VEHICLE ACCESS
Make Mangahoe Lane one-way access only with entry from Mutu Street, and create a dedicated cycleway in the road corridor. No changes to the Te Awamutu and District War Memorial Park Gateways constructed in 2001.
THE PEACE FOUNTAIN
Restore water supply to the Peace Fountain and fit a solar pump to recirculate the water.
LESSEES
No changes to lease arrangements for The Club House, Sport Courts and associated carparking with Te Awamutu Netball Centre.
Features of the existing park: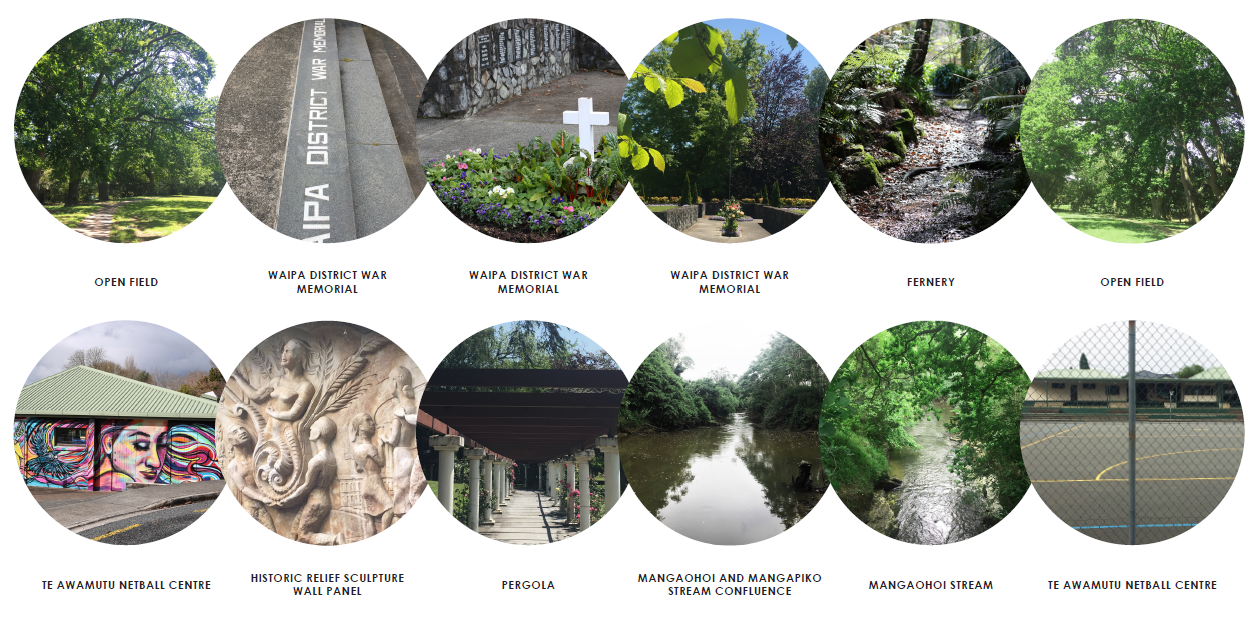 TE AWAMUTU NETBALL CENTRE
In collaboration with the Te Awamutu Netball Centre, explore future uses to activate the reserve throughout the year for the Club House, Sport Courts and associated carparking areas.
VEGETATION OPEN SPACE
Protect and maintain the existing open space. This area will be open for all reserve visitors for use.
WOODLAND ISLANDS
Carefully crown-lift existing exotic tree groves to a height of two-metres and plant below with seasonal interest; bulbs bloom in early spring, forest wildflowers in summer, vegetation with autumn colour to improve sight-lines across the reserve.
AMENITY PLANTING
Create a planting plan, schedule and maintenance plan for each amenity garden, to help contribute to War Memorial Park's sense of place and identity.
HERITAGE ORCHARD
Create a heritage orchard at the location of the historic Otawhao Mission Station, once situated within the War Memorial Park reserve area.
KOHIKOHI PLANTING
Nurture native planting close to the Mangaohoi Stream to restore natural character and provide opportunity for mana whenua to connect with awa and carry out cultural practices and activities associated with collecting kai.
PUNA RESTORATION PLANTING
Undertake a Puna Restoration Planting Project to restore waterway.
FERNERY
Restore the Fernery (heritage reature) as part of the Puna Restoration Planting Project.
RIPARIAN PLANTING
Create a wide riparian planting strip on each side of the Mangaohoi and Mangapiko Streams to help restore and treat water entering the awa.
OVERLAND FLOW PATH PLANTING
Create a wide planting strip on each side of the gullies, tributaries and overland flow paths to provide a filter for water entering the awa.
WETLAND PLANTING
Plant native wetlands on the pond edges to restore and improve pond water quality. The plant species will be selected in collaboration with mana whenua.
B) RESERVE GATEWAYS
The concept plan includes installing four 'gateways' to the north, east, west and south of the reserve to improve the connection and welcome neighbouring residents and visitors to the reserve.
EASTERN GATEWAY
Create a new gateway on Mutu Street where Pioneer Walkway meets the reserve to strengthen the connection between War Memorial Park, the open space network and Town Centre, including the Events Centre, Library, Pioneer Park and Rose Gardens.
NORTHERN GATEWAY
Create a secondary northern entrance via Christie Avenue to strengthen the connection between War Memorial Park and neighbouring residents, connecting to a future shared pathway along the Mangapiko Stream to Ohaupo Road.
WESTERN GATEWAY
Create a primary western entrance on Racecourse Road to strengthen the connection between War Memorial Park, the open space network, Te Awamutu College and Te Wānanga o Aotearoa. Also create a new pedestrian walkway across Racecourse Road for improved safety and access, encouraging a safer speed environment.
SOUTHERN GATEWAY
Create a secondary southern entrance on Mangahoe Street to strengthen the connection between War Memorial Park, neighbouring residents and the wider community.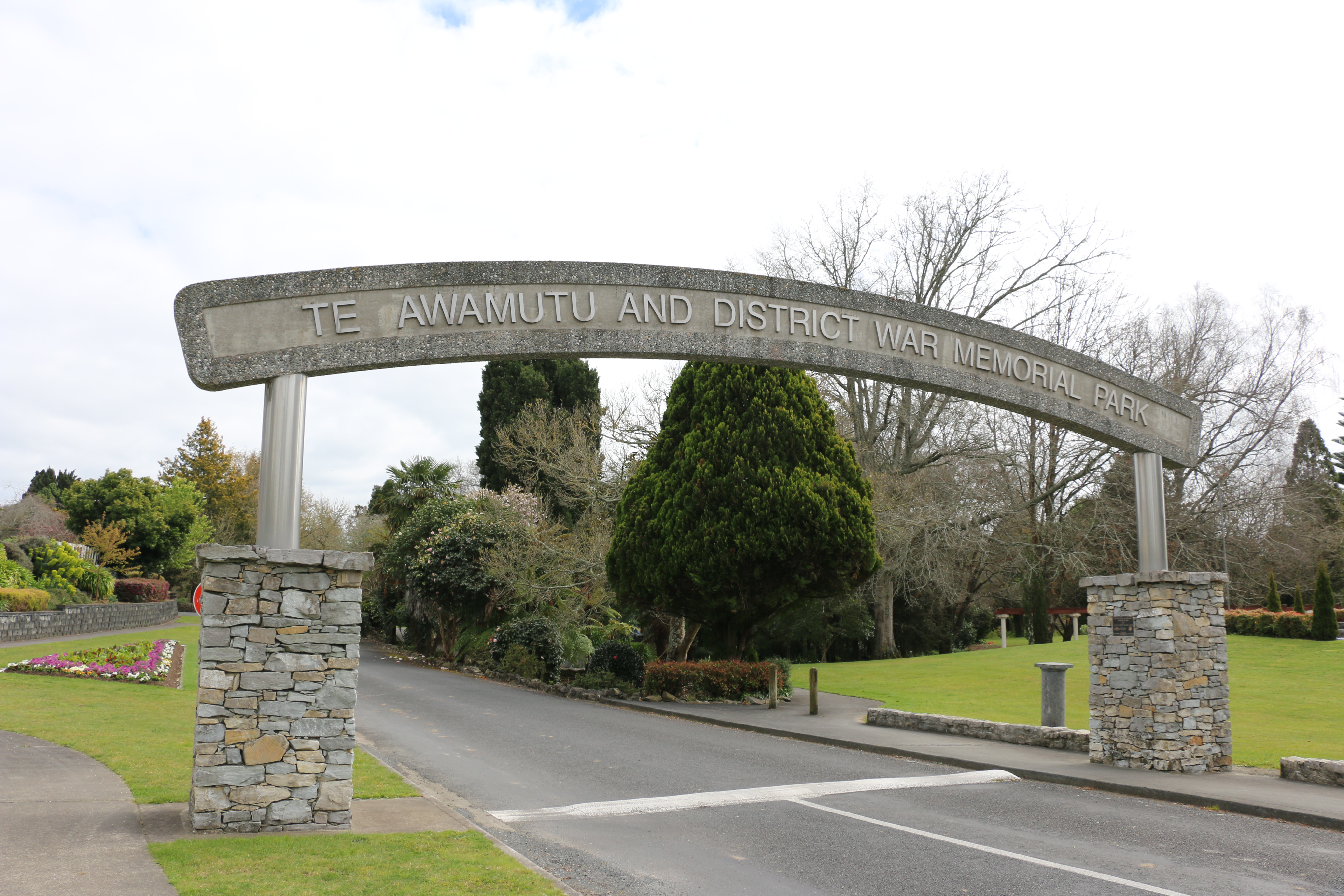 INFRASTRUCTURE
WIDE PEDESTRIAN PATHWAY
A three metre wide shared pathway will be created alongside Mangahoe Lane, creating a pedestrian pathway between Mutu Street and Racecourse Road, featuring seating, interpretation and wayfinding signage, concrete and boardwalk surfaces.
SECONDARY PATHWAYS AND TRAILS
The secondary pathways and trails will be a minimum width of 1.5 metres to improve accessibility and safety using a compacted gravel surface and boardwalks where the pathways and trails cross sensitive landscape areas.
RACECOURSE ROAD CARPARK
Upgrade the existing western carpark by creating a new entrance from Racecourse Road, and improving planting and low-impact stormwater design to reduce effects of the carpark.
MANGAHOE STREET CARPARK
Upgrade the existing southern carpark adjacent to The Club House with planting and low impact stormwater design to reduce the effects of the carpark.
PAVILION FUNCTION SPACE
Develop a new covered outdoor Pavilion Function Space as a flexible venue for community gatherings and family celebrations, featuring a barbeque and picnic tables.
PLAY
Develop a new Māra Hūpara Play Trail for children aged 1-12 years on the northern side of the Mangaohoi Stream, grounded in ecology and Māori traditions and history.
Develop a new Neighbourhood Playground close to the existing playground to allow for the 3m wide pathway between the pergola and the middle (Royal New Zealand Air Force, Ranginui) bridge.
TOILET FACILITIES
Retain and maintain existing toilet facilities to a high standard.
SIGNAGE
Develop a Signage Plan for all interpretation and wayfinding signs within War Memorial Park to create a consistent appearance, co-designed with mana whenua to acknowledge te ao Māori (Māori world view).
DOG EXERCISE AREA
The reserve is currently an off-lead dog exercise area and with a likely conflict between dogs exercising freely and the aspirations to increase the use of the reserve for functions, picnics, play and to enhance the ecological values of the reserve, it is recommended that at the next review of the Dog Control Bylaw, consider re-designating the reserve as a dog on-leash area. This will be consulted on separately.
LIGHTING
Develop a Lighting Plan with professional guidance to help improve sight lines and safety throughout the park.
VIEW SHAFTS
Create view shafts (sight-lines) down to the Mangaohoi and Mangapiko Streams throughout the park.
RESERVE INTERFACE WITH ADJOINING RESIDENTIAL LOTS
To increase neighbourhood safety through passive surveillance, the plan identifies high solid fences and walls should be avoided around the perimeter. Council will work with adjoining landowners to assist with achieving this recommendation by way of changes to fencing, edge treatments and vegetation to provide privacy for residents and create a sense of openness.
SITE FURNITURE
Develop a Site Furniture Plan to ensure a consistent approach and appearance to War Memorial Park furniture, including bike and scooter racks, bollards, gates, litter and recycling bins, picnic tables and seats.
What's the cost breakdown?
The high level costing for the draft Memorial Park concept plan projects are outlined below:
Public consultation on the draft Long Term Plan 2021-31 was undertaken to gain feedback on funding for the concept plan implementation.
Since the Long Term Plan went out for consultation, staff have revised the costings based on the changes endorsed by the Council SP&P committee in April 2021.
Table 1 sets out the costs of the Council-endorsed action plan.
Table 2 sets out the project costs from the Council-endorsed action plan that are not expected to be implemented in the next ten years.
Council is still deliberating on the feedback as part of the 2021-2031 Long Term Plan discussions and will be making a final decision on the implementation of the projects outlined in Tables 1 and 2.
Table 1: High-level Cost Estimates for the Action Plan Endorsed by Council in April 2021

Short-term projects – to commence in Y1-3 of LTP 2021-31

PROJECTS

Capital expenditure (CAPEX) Costing

Operational expenditure (OPEX) Costing

Vegetation Management Plan

$54,000

Heritage Management and Maintenance Plan

$36,000

Stone Wall restoration and extension

$60,000

Play - Standard playground replacement

$400,000

Restore the Peace fountain

$20,000

Signage Wayfinding

$50,000

Amenity Planting

$144,000

Mangaohoi Stream middle bridge replacement

$250,000

Mangaohoi Stream northern bridge replacement

$250,000

Total Y1-3

$1,030,000

$234,000

Medium-term projects - to commence in Y4-10 of LTP 2021-31

Broad pedestrian pathway spine

$1,500,000

$12,000

Amphitheatre restoration and daylighting puna, remediation and development of fernery

$250,000

$125,000

Perfume Garden and Gazebo restoration

$35,000

$12,000

Pergola restoration

$10,000

Te Awamutu and District War Memorial restoration (Sunken Cross Area)

$24,000

$12,000

Restoration of Te Awamutu and District War Memorial Gateways and Mangahoe lane changes

$100,000

$5,000.00

Puna restoration planting

$200,000

Amenity Planting

$336,000

Primary pathways and trails

$400,000

Reserve Entry Thresholds - Mutu St and Racecourse Road entrances

$660,000

Site furniture

$50,000

Lighting

$275,000

Crime prevention through environmental design (CPTED) assessment

$10,000

Pond reduction and wetland planting

$300,000

Total Y4-10

$3,604,000

$712,000

TOTAL LTP BUDGET

$4,634,000

$946,000

TOTAL LTP BUDGET plus 15% CONTINGENCY

$5,329,100

$1,087,900
Table 2: Projects not implemented in the next 10 years
Long-term projects - to commence in Y10+ of LTP 2031-41

PROJECTS

Capital expenditure (CAPEX) Costing

Operational expenditure (OPEX) Costing

Mangaohoi and Mangapiko stream confluence - Interpretive landscape intervention

$300,000

Pa Tuna - Interpretive landscape intervention

$15,000

Pioneer Walk - Interpretive landscape intervention

$80,000

Heritage Orchard

$20,000

Overland flow path planting

$30,000

Woodland Islands

$30,000

Secondary Pathways and Trails

$50,000

Multi-use car park

$15,000

Pavilion function space

$100,000

Kohikohi planting

$25,000

Signage - Interpretation

$50,000

Play - develop Mara Hupara play trail

$60,000

Total Y10+

$775,000

$0

Total Y10+ plus 15% CONTINGENCY

$891,250

$0
Full implementation of the Council-endorsed action plan cost plus contingency budget of 15%
| | | |
| --- | --- | --- |
| FULL MEMORIAL PARK ACTION PLAN IMPLEMENTATION | Capital expenditure (CAPEX) costings | Operational expenditure (OPEX) costings |
| TOTAL COST plus 15% CONTINGENCY | $6,220,350 | $1,087,900 |
About the project
Background
The War Memorial Park project was proposed in 1947 as a dedication to the men and women of the area who served during the Second World War. The park was planned and designed by H.G. Baggage and G. Gills and constructed by H. Webber and Alf Smart. The park was opened on 4 December 1955 by the then Hon. Prime Minister Sidney Holland.
Throughout Memorial Park, there are several monuments and memorials, both for remembrance and ceremonial use. At the Sunken Cross, the central tablet is inscribed: "1939-45 In memory of those who served and in sympathy with those who suffered and in grateful remembrance of those who gave their lives." A further 13 tablets list the names of those who gave their lives. A tablet honouring men who had given their lives in Korea, Malaya, Borneo and Vietnam was added in later years.
The park is located at the confluence of two streams, the Mangaohoi and the Mangapiko, that flow down from Maungatautari and eventually connect with the Waipā River near Pirongia. The Mangaohoi Stream runs through the eastern half of the reserve and meets the Mangapiko Stream by the netball courts; flowing together from here along the northern boundary of the reserve to Racecourse Road.
This network of waterways is significant for many reasons. The migration of tuna to Tonga and the Chatham Islands starts from these tributaries. The streams were widely used by iwi when they occupied the area. There were designated areas for specific functions such as sourcing drinking water, pā tuna and bathing and never did these functions mix. The streams were also a key transport network and it was this function that resulted in the name Te Awamutu which refers to the end of the navigable river. Canoes could navigate from the Waipā River up the Mangapiko Stream as far as Te Awamutu to the confluence of the Mangaohoi Stream.
Memorial Park is a much-loved reserve, approximately 6.68 hectares in area, with large open spaces framed by a collection of mature trees, meandering walkways and a pond. The park also includes features such as a playground, netball courts and associated car parking, and a fernery area.
The park is regularly used for memorial events such as the ANZAC Day Commemorative Services organised by the Te Awamutu RSA, picnics and small ceremonies, recreational walking and community events such as Shakespeare in the Park.
Currently, Memorial Park faces a range of challenges that need a co-ordinated response. These challenges range from non-functioning assets such as the middle bridge and poor pond water quality, to walkways with poor accessibility and erosion risks along the banks of the Mangaohoi and Mangapiko Streams. Additionally there is currently no recognition of the significance of the area to mana whenua.
The preparation of a Reserve Concept Plan for Memorial Park is a unique opportunity for Council, mana whenua, stakeholders and the local community to transform this reserve and create a legacy for Te Awamutu.
VISION
The Reserve Concept Plan for Memorial Park considers the future as well as today, to achieve enduring solutions, that are flexible and adaptable to change. It considers intergenerational concepts that contribute to sustainable landscapes and communities, such as history, culture, taonga, and landform.
Our approach for this project has included engagement at each phase of the design process with mana whenua and key stakeholders, with a formal community consultation phase following finalisation of the Draft Reserve Concept Plan. The outcomes from the engagement and consultation have informed the development of the concept design.
Meaningful engagement with mana whenua, statutory agencies, stakeholders, War Memorial Park Maintenance Group formerly known as Friends of Memorial Park and the wider community has been all important in providing a clear vision for the future of War Memorial Park, enriching the project aspirations and design objectives, providing a deeper understanding of the site's history, and ensuring that mātauranga Māori is integrated throughout the design process. The War Memorial Park Maintenance Group was formed during the concept plan public consultation process to support council with maintenance of the park.
Design Workshops with mana whenua have enabled the Reserve Concept Plan for Memorial Park to respond with a better understanding of key values. The workshops provide a framework for the work in progress that will allow for the inclusion of appropriate and approved cultural narratives by mana whenua, Ngā Iwi Tōpū O Waipā (NITOW) over time.
The vision and design aspirations developed for Memorial Park:
Acknowledge historical and cultural significance, and honour the history of place;
Support the restoration of the awa (Mangaohoi Stream and Mangapiko Stream);
Provide opportunities for education and play, grounded in ecology and culture;
Provide future opportunities for potential multi-use of existing reserve facilities;
Reinforce and strengthen the reserves design, aesthetic and visual identity through a proposed broad shared pathway spine.
Māori culture and identity highlights Aotearoa New Zealand's point of difference in the world and offers up significant design opportunities that can benefit us all. The Reserve Concept Plan supports a co-design approach with mana whenua for all new projects.
All projects identified in the Reserve Concept Plan will be informed by and acknowledge te ao Māori (Māori world view), the interconnectedness and interrelationship of all living and non-living things, and the site's more recent history as a place for remembrance and reflection on war, military conflict and peacekeeping.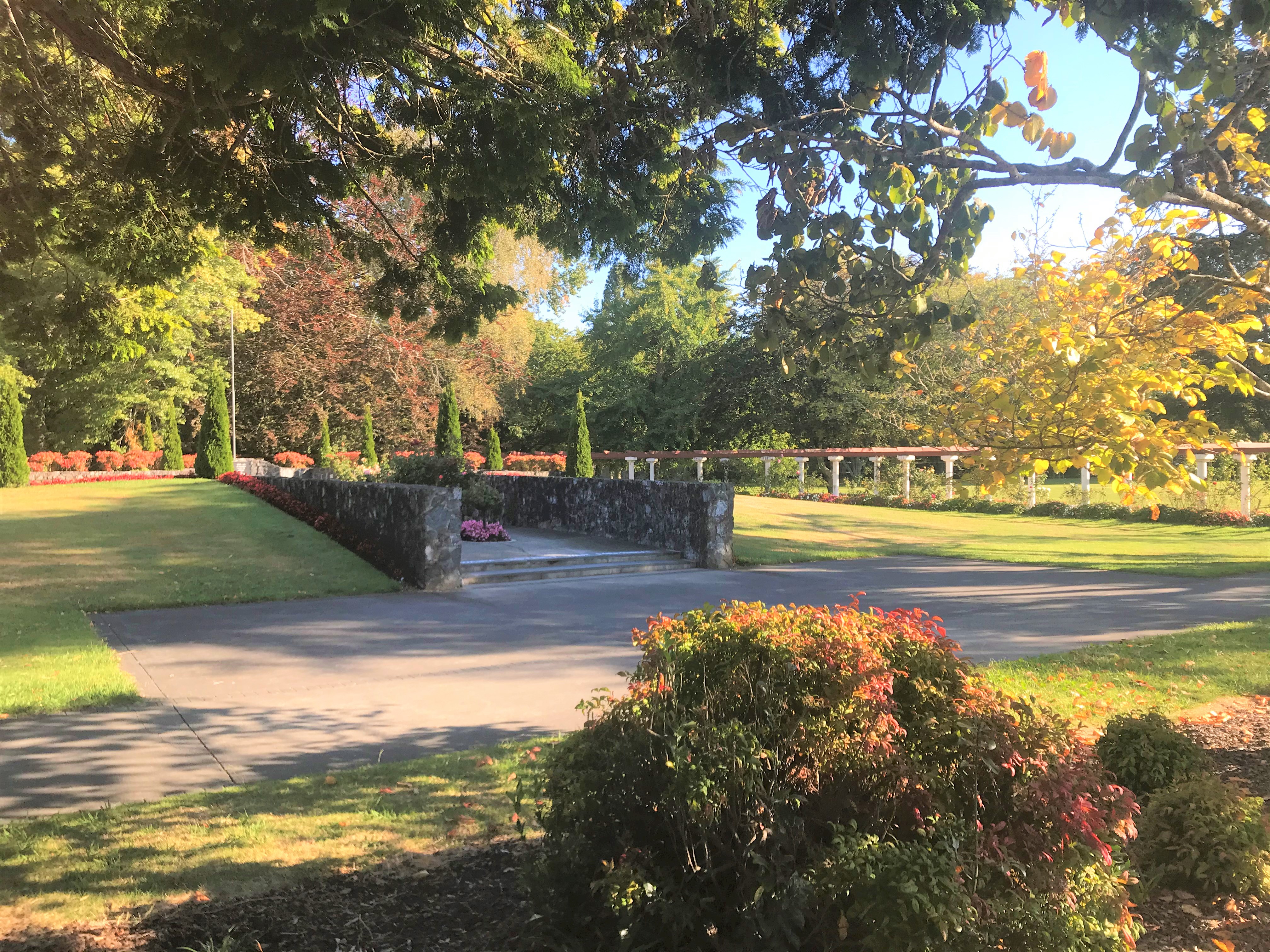 CULTURAL VALUES AND CUSTOMARY ACTIVITIES OF NGĀTI APAKURA
This plan presents Ngāti Apakura mana whenua (authority of the land), customary practices and tikanga (rules, customs, methods), to consider appropriate activities that honour and show reverence to the spaces known as Memorial Park extending to the netball courts.
We cannot turn back the clock, but we can enrich the present by looking to the past; and glean from it signposts that will give us a possible approach in the future development of the area.
The main features of the park are the Mangapiko and Mangahoe awa (rivers) and from them arise our own histories and herstories, kaupapa (themes) and imagery, for the reserve to welcome locals and manuwhiri (visitors) wanting to explore the culture and arts of te ara wai (veins of mother earth). These awa were prime sites for pā harakeke and pā rongoā (flax and medicinal plants) that provided the resources for life in Kaipaka pa. The role of wāhine (women) and their contribution to te ao tūroa (world of science) are signposted.
ENVIRONMENTAL FACTORS
In the Māori creation story two Atua (celestial beings) personified as primeval parents, Ranginui – sky father and Papatūānuku – earth mother, are the source creation of Aotearoa. As progenitors, the original parents and their six principle children are personified as a human family (Best, 1974, p. 44), that generates environmental factors and the ecosystem through two principal processes; regeneration, and the struggle within the family. Through regeneration the world evolved to a concrete and complex ecosystem produced from fathers of forest, fish and ocean, developing into yet more subsets - such as birds, reptiles and mankind (Yoon, 1986). We seek to develop indigenous spaces on the reserve in two ways.
PAY HEED TO TE HĀ (BREATH) O HINEAHUONE
The emergence of the female element is to be found in Māori cosmogony. Tāne Mahuta was sent by his mother Papatūānuku to Kurawaka (her pubic region), to gather the red earth containing the necessary ūwhā (female element) from which Hineahuone, the first woman could be shaped. Tangata whenua (the indigenous people of Aotearoa) are descended from earth mother through Hineahuone the first woman.
PUHI WĀHINE (WOMEN OF IMPORTANCE)
The fundamental principle of Ngāti Apakura for raising puhi wāhine was the underlying belief that women were favoured as offspring from the atua, which meant that they were tapu (under special rules and restrictions, prohibited). Any negativity expressed to them was breaking the tapu by offending the atua. Wāhine inherited their mana (power, prestige) through their whakapapa (genealogy) and so they were treated with aroha (loving care) and indulgence. Their specific role in the hapū (subtribe) was to retain mana, as an example, by restoring the balance of peace after war to answer the demands of justice. On many occasions throughout history puhi wāhine were gifted to rangatira (chief) who held spiritual power and authority. These relationships in its traditional sense ensured ongoing status, influence, dignity and respect for their descendants.
Two well-known Apakura puhi wāhine were twins, Reitū and Reipae who were born and raised within the Nga Roto region. History points to them as having their own puna (bathing pools) which were tapu areas, off limits to men.
Expectant mothers also had special birthing pools close by the pā sites, where tohi (dedication) rites were pronounced on the babies. Males were dedicated to Tūmatauenga (God of war) while female babies were dedicated to Hineteiwaiwa offspring of Tāne Mahuta and Hinerauamoa (a celestial star). According to Apakura birthing kōrero (stories) the legacy of supernatural powers, spiritual guardianship of childbirth and moon cycles is attributed to Hineteiwaiwa. As the origin source of raranga (weaving) she possessed vast amounts of knowledge.
TE PĀ HARAKEKE (FLAX CULTIVATION)
The pā harakeke itself is a metaphor for the importance of the child and its relationships in the whānau (family), its connections and its role within the collective, including the idea of sustainability for the tribe. Where there is pā life there are cultivations whether for kai (food) or for health or for supplying the people with clothing, tools or home comforts. Wāhine developed their talents and gifts for the betterment of the whole whānau.
"Maori weaving is full of symbolism and hidden meanings, embodied with the spiritual values and beliefs of the Maori people (Puketapu-Hetet,E (n.d) Nga Whariki Manaaki)".
The whakairo pattern (design) woven in this whāriki is called Kaokao, (armpit) which symbolises comfort, protection and strength. Kaokao is a universal 'whole of life symbol' that is used in birthing mats, marriage mats, sleeping mats and mats that lie beneath the coffin of the deceased.
TE PĀ RONGOĀ
Harakeke also has medicinal properties as do other native plants and trees such as kumarahou, kawakawa, koromiko and kōwhai which were widely used when available. Whakapapa (genealogy) is a key element in the existence of traditional healing. We seek to reclaim those stories surrounding traditional herbal gardens in regard to mātauranga Māori environmental knowledge and research development.
THE FUTURE OF THE PARK
With art that is weaving, seen as a sacred and spiritual link to ancestors, it is in this sense that raranga evokes spirituality, unity and togetherness. The opportunity to create an educational and reflective gathering place at the park, restoring identity and connection to place, with representation signage telling stories of the land, acknowledging history and cultural significance, to this unique Waipā space at the joining of both awa. Words by Hazel Wander and Haupai Puke.
A brief history of the park from Hazel Wander of Ngāti Apakura: