Our space in the heart of Te Awamutu

Te Awamutu is growing and by 2050 another 5,440 people will choose to call Te Awamutu home. We want to make sure our town is ready to welcome these new people while retaining the history and character of Te Awamutu.
We are looking at ways to make the town and our district even more active and vibrant.
Over the past 10 years, Council has worked on redeveloping the area around Selwyn Park. The development of the hub' precinct came from the Te Awamutu Town Concept Plan in 2010. The Town Concept Plan includes a very clear vision: create a vibrant town centre - the heart of Te Awamutu - that blends the modern and historical to provide a unique ambience.
Experience our vision with virtual reality
Want to find out more about these exciting plans? Then come down and chat to us!
When: Thursday 9 November. Pop down at anytime between 3 - 6pm.
Where: Community Space, Te Awamutu Library.
While you're there, you'll be able to see what the future holds using our virtual reality goggles!
Have your say on our plans
Thank you for your feedback. Submissions have now closed.
The next step in our journey
Our goal is to create a central meeting place for our community. A place that offers recreational, social, cultural and educational activities - all in one central area.
The hub precinct around Selwyn Park already contains key facilities that support our Town Concept Plan vision, such as the Te Awamutu Events Centre, the Te Awamutu i-SITE, and the newly opened Te Awamutu Library, with more facilities planned for the area.
We want our town centre to continue to grow as an attractive, lively and functional heart of Te Awamutu.
As well as this webpage, we've created a printed booklet about this project.
Download: Booklet - Our space in the heart of Te Awamutu [PDF, 4MB, 13 pages]
History of the area
This area was known as Ōtāwhao in the 1800s, a vibrant trading hub thanks to prosperous farming by the tangata whenua of Te Awamutu.
Read more: Te Awamutu hub - history of the area
Accommodation, business and entertainment
We want to make sure the area is an active and vibrant space at all times of the day.
To do this we need to make sure we have the right facilities in the right place and we also need a level of business activity and residential development.
Alexandra Street will remain our main retail precinct and we are working closely with retailers to improve our retail offering.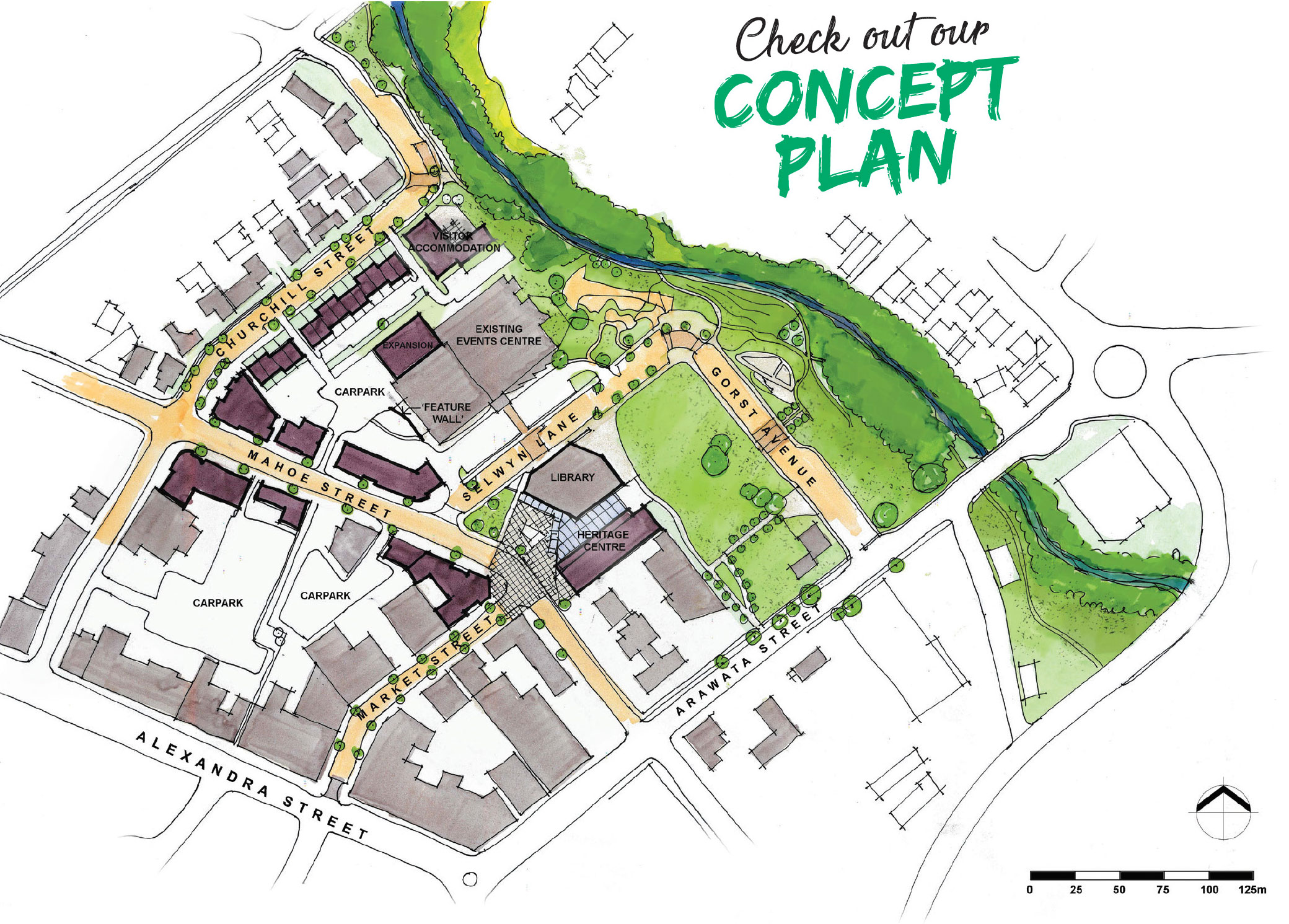 Land use and urban design
Creating a new central area requires a lot of work around how the place should look, what type of development should go where and how it all works together.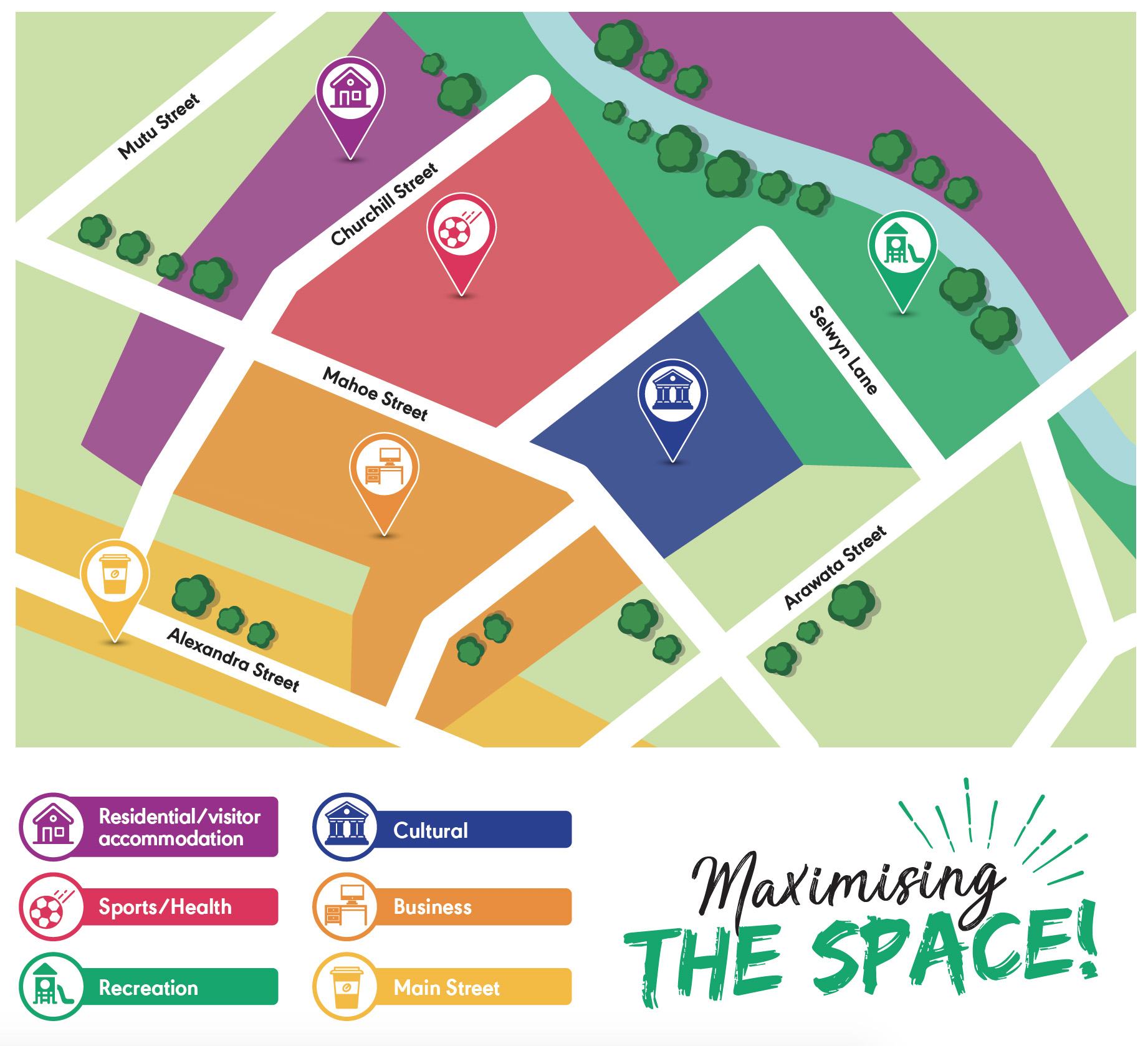 Our plans for the future will involve changing the way some of the land is used in that area. This is required to make sure the whole area flows the way it should, the right things are connected and so that space is maximised.
We're looking to create six zones:
Business
Cultural
Residential
Recreation
Sports / health
Main Street
Destination playground and children's bike skills park
The recreation space near Selwyn Park and along the Mangaohoi Stream will be developed and transformed into a grass terraced area with seating and picnic areas. The current playground will get a refresh and there are lots of new features too.
Read more: Major project - Te Awamutu recreation hub
Mangaohoi Stream
This stream is precious and we want to make sure it's protected for years to come.
We're looking at implementing a restoration plan that will involve planting and also weed control. As well as this, we want to fix the erosion issues along the stream and make sure it's a place our community can appreciate and enjoy.
The future of Market Street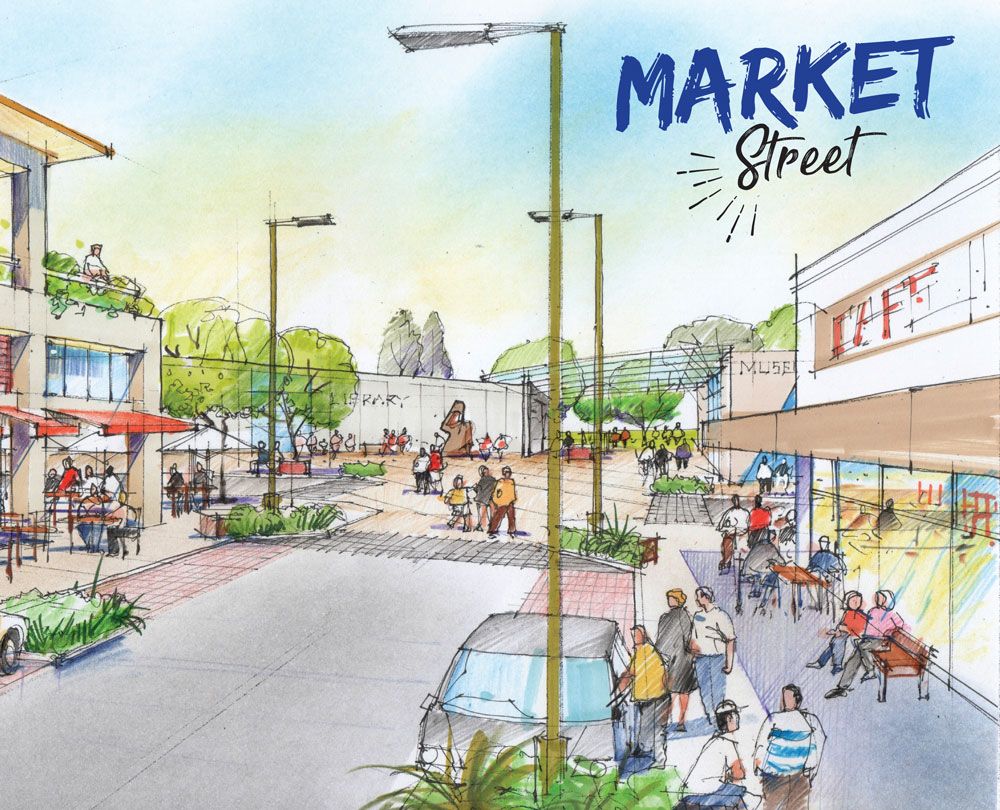 Market Street will be a key connector street linking the main street with the hub area.
A place that opens out into the public area and enables retail/commercial development.
A place of trees, wide footpaths and small boutique shops.
A place that is easy to walk around and enjoy.
The future of Mahoe Street
Mahoe Street will be an area including a mix of restaurants, offices and potentially higher-density residential housing.
A place that welcomes you to the hub area.
A place that is attractive for pedestrians.
A place with underground power and leafy trees.
The future of Churchill Street
Churchill Street is currently a largely un-used area that is perfect for residential and visitor accommodation.
A place that means people can live close to the hub.
A place that borders the Mangaohoi Stream.
A place that will add to the vibrancy of the area by keeping it active and alive at all times of the day.
Social spaces

We want to create formalised public/social spaces that link all parts of the area together.
A place that connects our facilities to our green spaces.
A place for events and gatherings.
A place where people come together and celebrate.
Be part of it!
Right now, we're preparing a draft 10-Year Plan for Waipa District.
Our 10-Year Plan is our story for the district. It sets out what Council plans to do over the next decade - and how we intend to pay for it. It's about balancing what we need and want to have in the district, with what is aordable for our community.
The projects outlined here represent our long-term vision for the future; it won't all happen at once. As part of our 10-Year Plan, some of these projects will be up for discussion so we want to know what you think about them!
There will be plenty of ways for you to join the discussion. Keep an eye out in the local newspapers, the Have Your Say section on our website, and the Waipa District Council Facebook Page. We may even pop up at your local farmers' market or outside your favourite coee shop. The more people involved, the better!