What's Next Waipā - Long Term Plan
Consultation is now open for the 2021-2031 Draft Long Term Plan. Submissions close at 5 pm, Tuesday 27 April 2021.
It's time to decide what's next for Waipā for the next 10 years.
Our vision Waipā Home of Champions: Building connected communities is all about making Waipā a great place to live so you, your whānau, friends, workmates and neighbours can thrive.
On 26 March 2021, we'll be asking you for feedback on our draft Long Term Plan, which outlines the work we'll be doing over the next 10 years to achieve this vision.
It doesn't include every project we'll be working on, but gives you an overview of projects or issues that have a significant cost, have high community interest or are different from what we said we would do in our last Long Term Plan.
Your feedback will help the mayor and councillors who represent you and your whānau to make final decisions on behalf of the community.
The consultation period for the 2021-2031 draft Long Term Plan is from Friday 26 March until 5pm, Tuesday 27 April 2021. Have your say here!
Our Long Term Plan is our most important planning tool that sets out what Council plans to do over the next decade – and how it'll be paid for.
It includes detailed information on the activities, services and projects we intend on delivering, when we will deliver them, where and how. It also includes the detail around our funding and financial management. Ultimately, it tells you what your rates may look like for the next 10 years.
What's the focus for the next 10 years?
The outcomes we want to achieve for Waipā all have community wellbeing at the heart:

Before we started planning for the next 10 years, we asked what community wellbeing meant to you through a survey and neighbourhood BBQs across the district last year.
We also interviewed local business people and organisations to find out their current and future goals for the district and how they fit with community wellbeing.
Your feedback has shaped our priorities and our proposed programme of work that we'll be consulting on.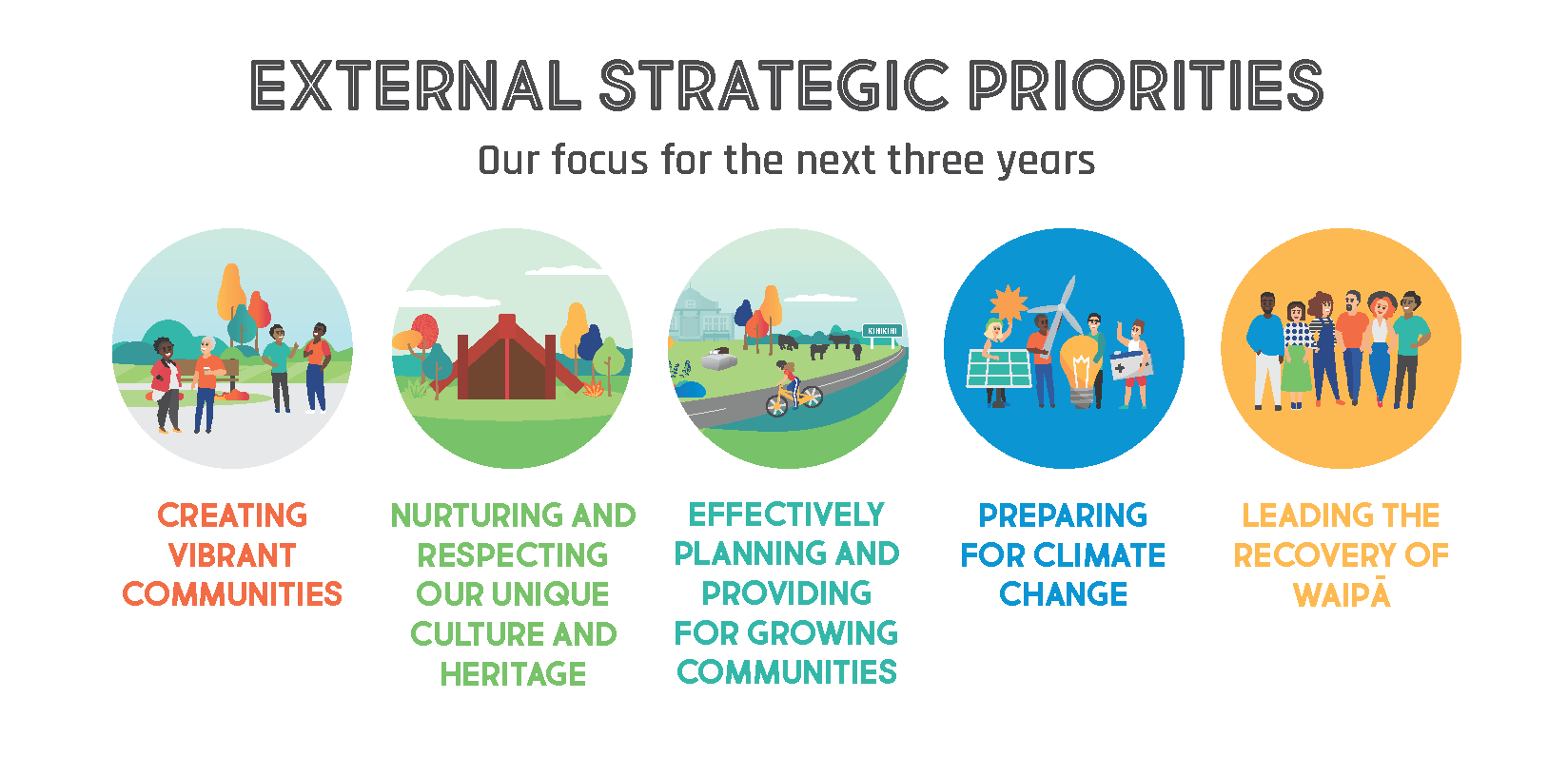 All of our strategies, plans, policies, activities and work programmes will be shaped to successfully deliver on Council's updated community outcomes and strategic priorities.
What about the dollars and cents?
Check out the What's next, Waipa? website to find out more about the dollars and cents. You can also check out what your proposed rates could look like for next year here.
So, how does it all work?
10 years in 10 points…
Waipā is adjusting to the impacts of the global COVID-19 pandemic, and economic and social recovery will be a huge focus for us long-term.
Ensuring Waipā an affordable place to live, work, play and invest is one of the biggest challenges facing our district in the next 10 years.
Waipā continues to grow fast and to cater for growth we must have infrastructure like pipes and roads. But to keep debt levels within limits and rates affordable, we've had to adjust the timing of some growth projects.
Like other councils, our district is also facing a raft of big issues like managing climate change, effective delivery of water and wastewater services, and managing ageing infrastructure. These issues impact heavily on our activities and priorities for the next 10 years.
Our debt will increase significantly as we build new infrastructure to cater for growth and deliver the projects we've identified in the plan. We're funding this work from debt to ensure the cost is spread fairly between current and future ratepayers.
Despite the challenges ahead, we will keep investing in our towns, community projects and facilities so Waipā remains vibrant and a fantastic place for people to live and visit.
A huge chunk of work will be creating a 'spatial plan' - or 'blueprint' - for Waipā that sets out our plan of action for where and how we should grow and develop over the next 30 years. It will include land use, transportation, three waters infrastructure, community infrastructure, heritage, and the environment.
Our work for the next 10 years will help us achieve our vision, Waipā Home of Champions: Building Connected Communities, and community outcomes: socially resilient, cultural champions, environmental champions and economically progressive.
Our consultation document outlines our major projects.
Come to one of our community events!
Over the next few weeks, we'll be in your neighbourhood to talk to you about where our district's heading over the next 10 years and the proposals you've read about in this document.
Make sure you come and chat to us so we can hear what you think!
| Date | Location | Time |
| --- | --- | --- |
| Saturday 27 March | Tour of Memorial Park, meet at the Pioneer Walkway entrance | 11am – 12pm |
| Monday 29 March | Red Kitchen, Mahoe Street, Te Awamutu | 7am – 8am |
| Monday 29 March | Te Awamutu main street (outside Pickle and Plum) | 9.30am – 1.30pm |
| Tuesday 30 March | Cambridge main street, outside BNZ | 9.30am - 1.30pm |
| Wednesday 31 March | Pirongia Five Stags | 5.30pm – 7pm |
| Thursday 1 April | Te Awamutu Twilight Produce Market | 2pm – 6pm |
| Wednesday 7 April | Ōhaupō Community Sport and Recreation Centre | 5.30pm – 7.30pm |
| Thursday 8 April | Good Union, 98 Victoria Street, Cambridge | 6pm – 7.30pm |
| Sunday 11 April | Cambridge Trash 'N' Treasure Market | 8am – 1pm |
| Wednesday 14 April | Cambridge Library/Council foyer, Wilson Street | 4.30pm – 6pm |
| Friday 16 April | Te Awamutu Library foyer, Selwyn Lane | 4.30pm – 6pm |
| Sunday 18 April | Tour of Lake Te Koo Utu, by the carpark | 11am – 12pm |
| Monday 19 April | Kihikihi main street, outside the Superette | 9am – 1pm |
| Wednesday 21 April | Te Awamutu main street (outside Pickle and Plum) | 10am – 1.30pm |
| Thursday 22 April | Cambridge main street, outside BNZ | 10am – 1.30pm |
We'll also be presenting to a number of community groups along the way:
| Date | What's on | Location |
| --- | --- | --- |
| Thursday 15 April 2021, 1.30-2.30pm | Te Awamutu Grey Power | Te Awamutu RSA, 381 Alexandra Street, Te Awamutu |
| Thursday 15 April 2021, 2pm-4pm | Drop-in session about growth | Kaipaki Room, Waipā District Council, 23 Wilson Street, Cambridge |
| Tuesday 20 April 2021, 6.30pm | Cambridge Chamber of Commerce | Onyx, 70 Alpha Street |
| Tuesday, 30 March 2021, 5.30pm | Te Awamutu Rotary meeting | Te Awamutu Club, 542 Alexandra Street, Te Awamutu |
| Wednesday, 7 April 2021, 1.30pm | Iwi Consultative Committee | Parawera Marae, 11 Owairaka Valley Road, Parawera. |
| Wednesday, 7 April 2021, 1.30pm | Cambridge Grey Power | Cambridge Community Centre, 22 Taylor Street, Cambridge |
| Tuesday, 13 April 2021, 6pm | Te Awamutu Community Board | Waipā District Council Chambers, 101 Bank Street, Te Awamutu |
| Tuesday 6 April 2021, 6pm | Te Awamutu Chamber of Commerce | Fahrenheit Restaurant, 13 Roche Street, Te Awamutu |
| Wednesday, 7 April 2021, 6pm | Cambridge Community Board | Kaipaki Room, Waipā District Council, 23 Wilson Street, Cambridge |


Supporting Documents: