Local bus tours to showcase land wars
9 October 2017
Two free bus tours will highlight Waipa's key role in the New Zealand Wars of the 1860s.
A number of battles including the Waiari and Ōrākau land wars and the Hingakaka inter-tribal battle occurred in Waipa during two of the most tumultuous periods in the country's history.
Waipa District Council's heritage manager Tony Roxburgh said there was a growing awareness of and interest in the history of Waipa and the New Zealand Wars. It had prompted the council to offer two bus tours to highlight historical events that had occurred in "Waipa's own backyard."
"Our district is absolutely jam-packed with history, from early human settlement through to the period of the New Zealand Wars," Roxburgh said.
"We have some very significant sites like Hingakaka, Mātakitaki and Taumatawiwi battle sites including the land wars battles of Ōrākau. Waipa has a very rich history and we have important stories to be told. As a council, we've have legal obligations to conserve and manage our heritage and offering some one-off bus tours is one way to do that."
Roxburgh said requests for education around the district's history filter in "ad hoc" via the district's museums and from schools and other groups. In response Council would offer two free 'Waipa Discovery Tours' in early November to help locals understand the district's history and its wider place in the history of the country.
"This is one way we can invest in our heritage, as we're obliged to do, and at the same time help the wider community understand our own Waipa stories. 'Heritage' is not only to be found in museums. In Waipa, it's all around us and that's a huge opportunity."
The two and a half hour tours (including comfort stops) would begin at the Te Awamutu Museum and travel to a number of sites including those in Pirongia, Paterangi Pa, Rangiaowhia, the Rewi Maniapoto memorial and Redoubt in Kihikihi. Tours would be narrated by guides who would encourage as many questions as possible.
At this stage, only two tours were being offered, one on Thursday 2 November and one on Saturday 4 November. Both would begin at 10am and finish at 12.30pm. Numbers on each tour were limited to around 40 and places would be allocated on a first-in, first-served basis.
Anyone interested in joining a tour should email events@waipadc.govt.nz or call the Council on 0800 924 723 to register.
Roxburgh said there was no suggestion the Council was getting into the "bus tour business".
"But if this is something someone else wants to pick up, we'd certainly encourage it as there is plenty to see in Waipa," he said.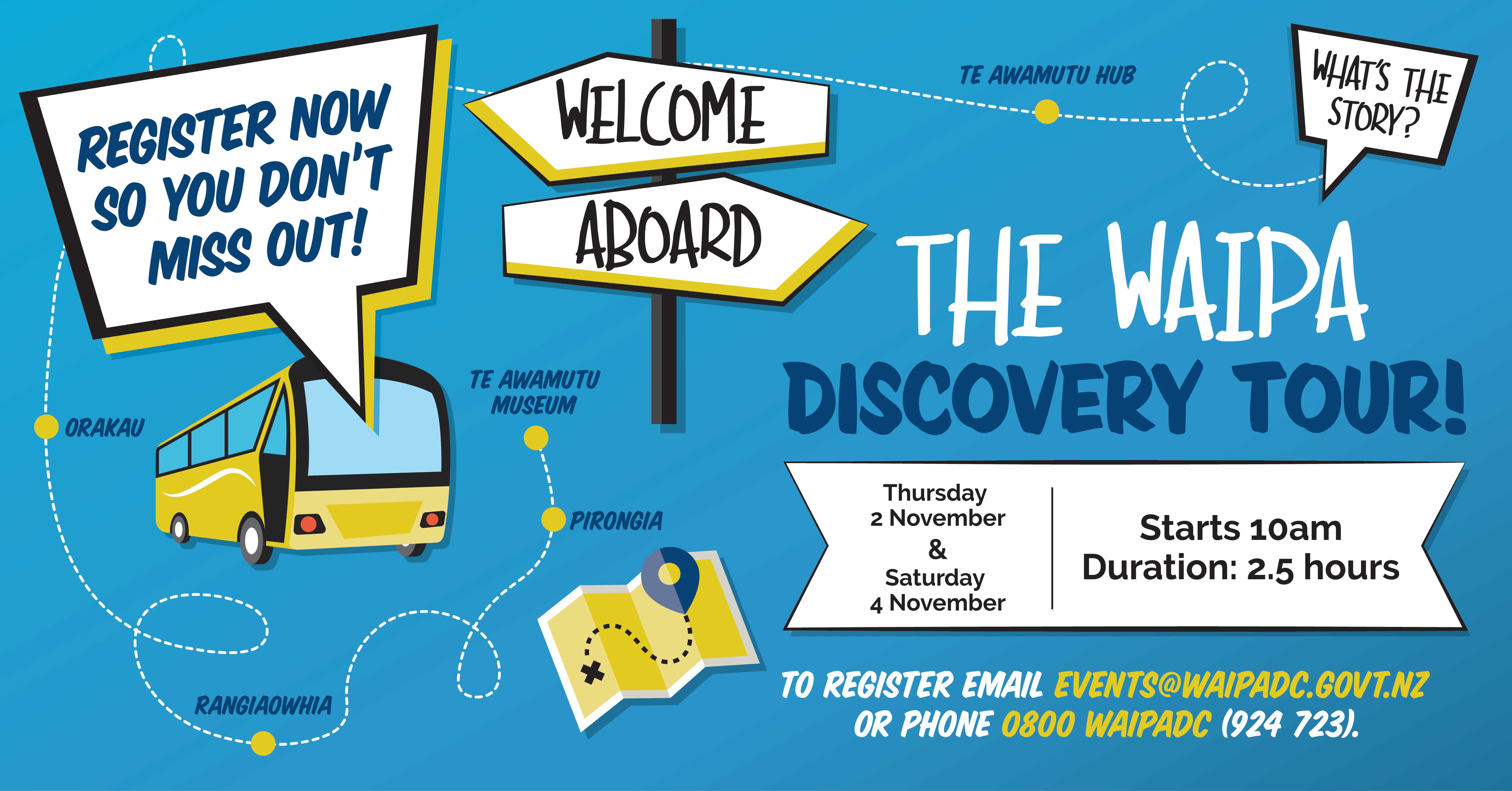 For more information, contact: Natalie Palmer, 027 807 3174