Proposed Plan Change 17 - Hautapu Industrial Zones
Status
Plan Change 17 was approved with modification however an appeal against the decision has been received from Fonterra. Appeal documents can be viewed below.
What is Plan Change 17?
Council is progressing a plan change to introduce various changes to the Hautapu Industrial Zones. The Waipā District Plan includes a Structure Plan for the Hautapu Industrial C8 Growth Cell. Council has since developed an infrastructure masterplan for detailed design of infrastructure upgrades in and around the C8 Growth Cell. The Structure Plan was more indicative and the masterplan sets out the actual development plan. However, the Structure Plan is now out of date and has been superseded by the masterplan.
Similarly, an area to the north of Hautapu Road is zoned Rural, but Council has granted consents for industrial activities on part of this land. The zoning for this area no longer reflects the land use. Council was also approached by the landowner of an adjacent parcel of land about rationalising the industrial zone boundary. Investigations have shown that this land would be suitable for rezoning, and that there is merit in rationalising the Industrial Zone boundary to meet current and expected demand.
What we're doing?
Proposed Plan Change 17 will amend the C8 Structure Plan so that it aligns with the infrastructure master plan.
Proposed Plan Change 17 proposes to rezone an area of approximately 15ha north of Hautapu Rd from Rural to Industrial. This better reflects current land use, rationalises the Industrial Zone boundary, and will assist in meeting demand for industrial land (including providing for potential relocation of industry from Carters Flat).
FAQs

What is the proposed rezoning?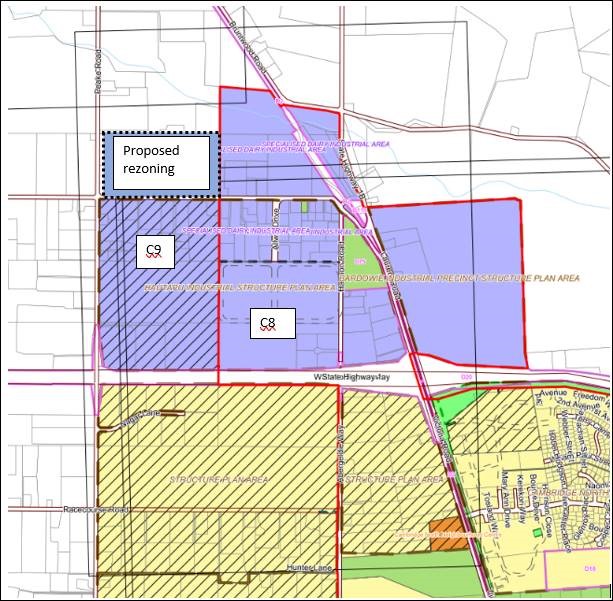 Is there a Cambridge Growth Map?



Indicative Timeframe
Date

Event and Notes

Early 2022

Prepare plan change

30 September 2022

Notify proposed plan change

Submission period is open for 20 working days

5 December 2022

Further Submissions open for 10 working days

13 December 2022

Hearing Panel minute #1 - [see minute here]

Hearing Panel minute #2 - [see minute here]

Hearing Panel minute #3 - [see minute here]

18 January 2023

Hearing Panel minute #4 - [see minute here]

Hearing Panel minute #5 - [see minute here]

26 January 2023
Hearing Panel minute #6 - [see minute here]
8 February 2023
Hearing Panel minute #7 - [see minute here]
27 February 2023
s42A Report filed by 4pm
6 March 2023
Hearing Panel minute #8 - [see minute here]
13 March 2022
Submitter Expert Evidence filed by 4pm
Hearing Panel minute #9 - [see minute here]
17 March 2023
Submitter lay evidence and any expert rebuttal evidence filed by 4pm
23 March 2023
Hearing Panel Minute #10 - [see minute here]
3 May 2023
Hearing Panel Minute #11 - [see minute here]
24 March 2023
All Legal Submissions to be filed by 4pm
19 May 2023
Joint Witness Statements and any new s42A reporting documentation filed by 4pm
26 May 2023
New Submitter Expert Evidence filed by 4pm
2 June 2023
New Submitter Evidence and any Rebuttal Evidence filed by 4pm
7 June 2023
Hearing Panel Minute #12 - [see minute here]
9 June 2023
Legal Submissions filed by 4pm
14 June 2023

HEARING - 9AM
Venue: Bridges Church
28 Duke Street
Cambridge

6 July 2023
Hearing Panel Minute #13 - [see minute here]
6 July 2023
Hearing Closed
10 August 2023
Decision Notified
21 September 2023
Appeal period closes 5pm