Dog registration
The Dog Control Act 1996 requires that all dogs in New Zealand be initially registered by three months of age, and annually after that (by 30th June each year).
There are many ways you can register your dog. You can do it online, over the phone or by popping into one of our offices in Cambridge or Te Awamutu.
If you are registering a dog for the first time you can:
Register your new furry friend with our Dog Online form
Request a dog registration pack from our customer support team. See our contact us page for details
Important notes about dog registration
When registering your dog for the first time you may also:
Provide a copy of a neutering certificate from your vet - urban dogs receive a discount
Provide a copy of the microchip certificate provided by a vet or Council Animal Control Officer
Complete a fencing rebate application if you have dog-proof fencing (urban dogs only)
…or you can follow up with these requirements at a later time using our Dogs Online Form. Your first priority is to get your dog registered.
We've merged all of our dog registration and admin forms into one handy, easy-to-complete 'Dog Online' form.
This form covers:
- New registrations (including the new registration of dogs from other councils)
- Fencing rebates
- Neutering rebates
- Submission of microchipping certificate
- Dog registration refunds
You can complete our Dog Online form here.
A copy of this online form will be sent to your email address upon completion.
Dog Registration Renewals (May to July each year)
All dog registrations in NZ expire 30th June each year, regardless of when they were first registered, and Waipā's annual renewal process begins 1st May.
Around mid-May all dog owners should receive a renewal notice by post, and payment is due by 30th June.
We allow an extra month to pay your fee, but any unpaid registrations after 31st July will incur a 50% penalty fee.
Renew your dog registration online

If your dog is already in our system you can simply renew their registration online using your dog's unique ID numbers, which you'll find on your re-registration notice.
Renew your dog registration online here using Account2Account, credit card (surcharge applies) or debit card. You can add multiple Dog IDs to your shopping cart and make a single secure transaction.
Want to know more about other available payment options? Visit the Make a Payment page for more details.
Remember to attach your dog's registration tag to its collar. This year's tag colour is RED.
Registration fees

Your registration fees help pay for Council's 24-hour dog control service, maintaining pound facilities, dog exercise areas and signage, doggy doo bins and public education activities.
Dog registration fees vary in cost depending on where in the district you live. Failure to register a pup by three months of age or any adult dog within 14 days of new ownership can also incur a penalty fee of 50% on top of the relevant fee.
Check out our Fees and Charges for the current registration year below.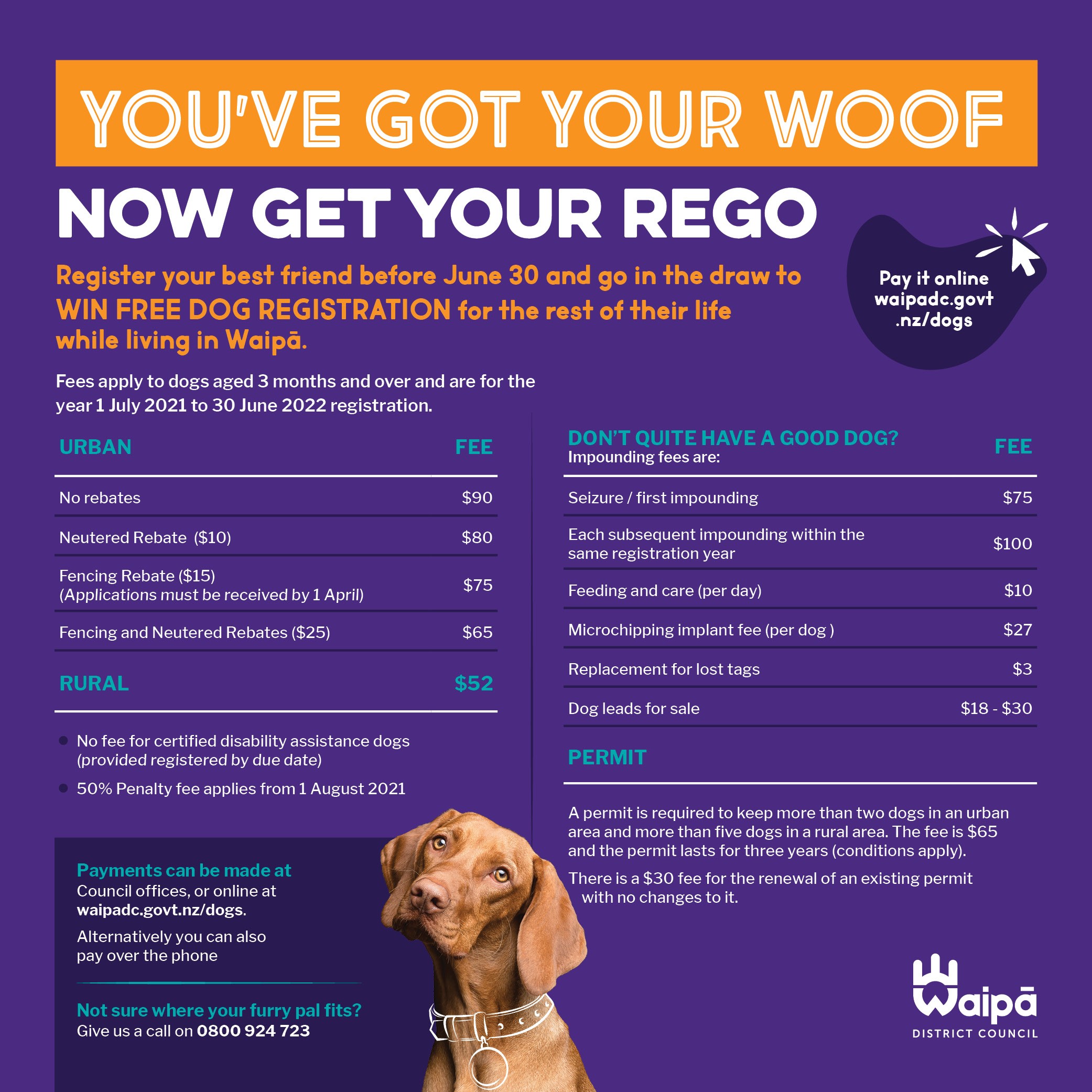 If you need a replacement dog tag...
You can email info@waipadc.govt.nz, call 0800 924 723 or pop into a Council Office to collect a replacement dog tag.
Rebates
Council offers rebates for urban dogs if:
You can provide a vet certificate confirming your dog is desexed
Your dog is contained behind dog-proof property fencing, subject to inspection by an animal control officer. The cut-off date for fence rebate applications is 1 April each year, to allow enough time for all properties to be inspected prior to dog registration notices being posted.
You can submit vet certificates and fencing rebate applications using our Dog Online form.
Dog registration refund
If your dog passes away, you can apply for a refund of the registration fee (pro rata rate). You can choose to credit your rates or water account or donate to pooches in need (options are detailed on application form).
You can now save time and apply for a dog's registration refund using our Dog Online form.
Moved house?

It's important to let us soon as a dog owner's details change, or if you move to a new address. You can update your dog's address details online or at a Council office.
Applying for more dogs
The Dog Control Bylaw 2015 restricts the number of dogs kept on urban properties to two dogs, and five dogs at rural dwellings. While we don't encourage dog owners to keep extra dogs over this number, we understand that sometimes there are special reasons for wanting to do so and we have a permit system where applications can be assessed.
Use these forms to apply to keep more dogs: