Citizenship
Waipā District Council - Citizenship Ceremony Dates for 2022
All ceremonies are held in the Council Chambers, 101 Bank Street, Te Awamutu and start at 9.30am. They last for approximately one hour and conclude with light refreshments.
23 September 2022
9 December 2022
Please note the dates are subject to change.
Citizenship ceremonies are hosted throughout the year in the Te Awamutu Council Chambers by Mayor Jim Mylchreest.
This public ceremony is an important step in the process of becoming a New Zealand citizen, and it gives new citizens a chance to share the experience of being welcomed into our community with their friends and families.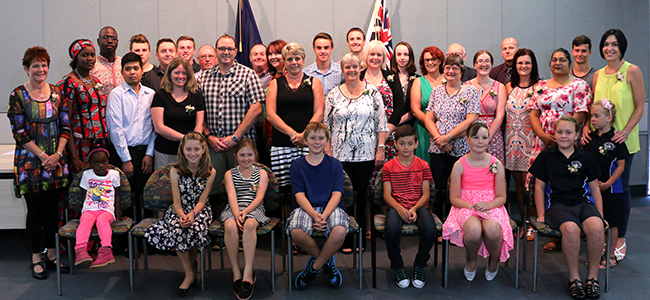 Becoming a New Zealand Citizen
Applications for New Zealand Citizenship must be made to the Department of Internal Affairs.
Information on this process can be found on their website or by phoning them on 0800 225151.
The Department of Internal Affairs will communicate with applicants throughout the process and notify us when they have received approval and are ready to attend a citizenship ceremony.
Ceremony details
It is suggested you bring a camera with you, to record this important occasion, and you may like to wear your national costume. Please ensure you arrive at the ceremony on time.
We will arrange for individual and group photos to be taken at each ceremony and copies will be processed and sent out to the new citizens.
Further questions
For all ceremony related questions please contact Cathy Plowright on 0800924 723 or email Cathy.Plowright@waipadc.govt.nz .
For any enquiries regarding the status of your application, please contact the Department of Internal Affairs directly on 0800 225151.
If you would like a copy of the photos taken at the Welcome to Waipa function held at Lake Karapiro on Friday 13.11.20