Wheelie bins
Recycling in Waipā

In Waipā, households are provided with two purpose-built wheelie bins: a 140-litre bin for glass and a 240-litre bin for mixed recycling. Wheelie bins service both rural and urban households in the Waipā district.
Get the full run-down on your bins with our 'Guide to your wheelie bin'.
Recycling collection

Your yellow 240-litre mixed recycling bin is collected every two weeks and your blue 140-litre wheelie bin collected every month.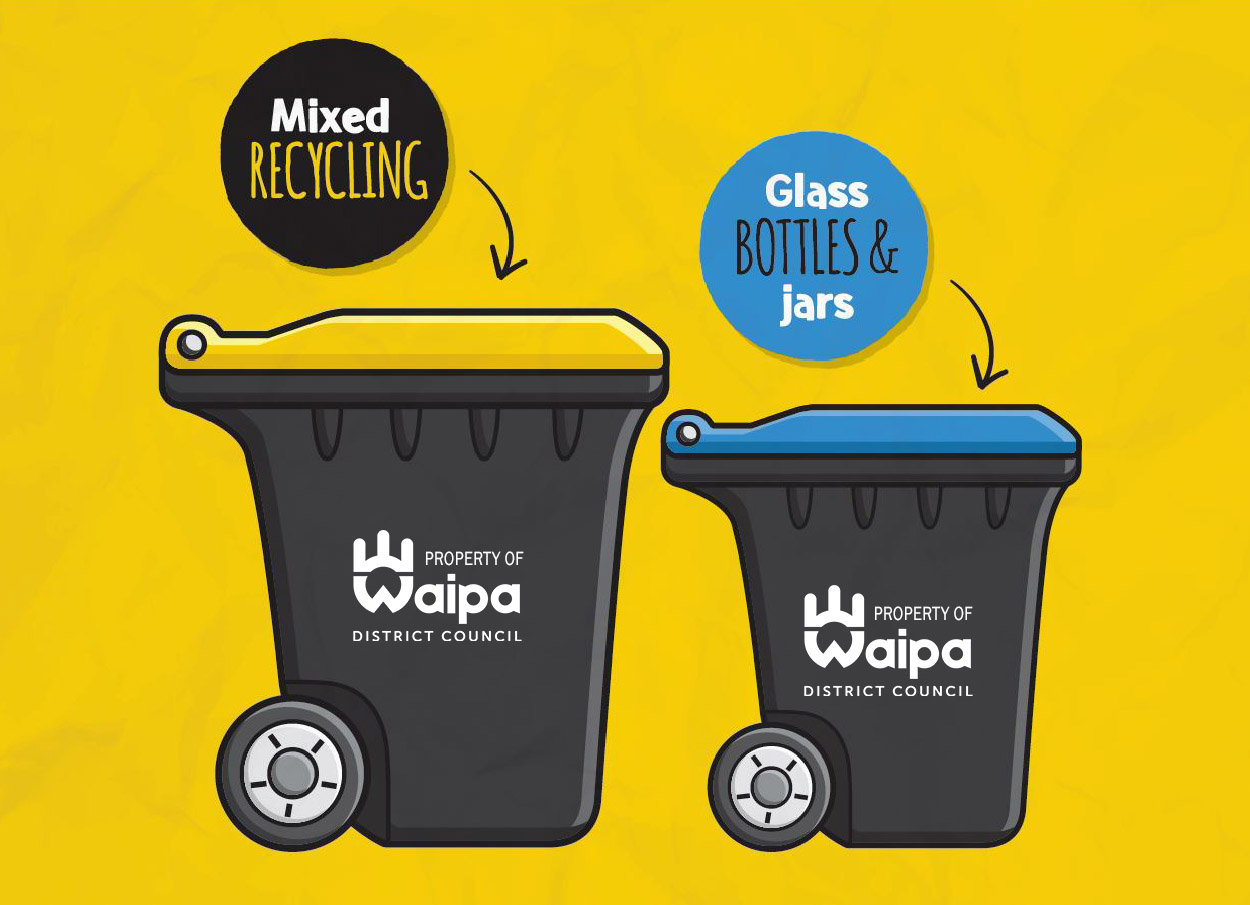 There are only seven things that should go into your yellow wheelie bins
#1 Plastic containers
#2 Plastic containers
Tins
Cans
#5 Plastic containers
Paper
Cardboard
Check the recycling triangle on any plastic container before putting it into your wheelie bin.
Anything else needs to go into your rubbish bin.

The blue wheelie bin is for glass bottles and jars only. Please make sure to remove all lids from bottles and jars before they go in the wheelie bin.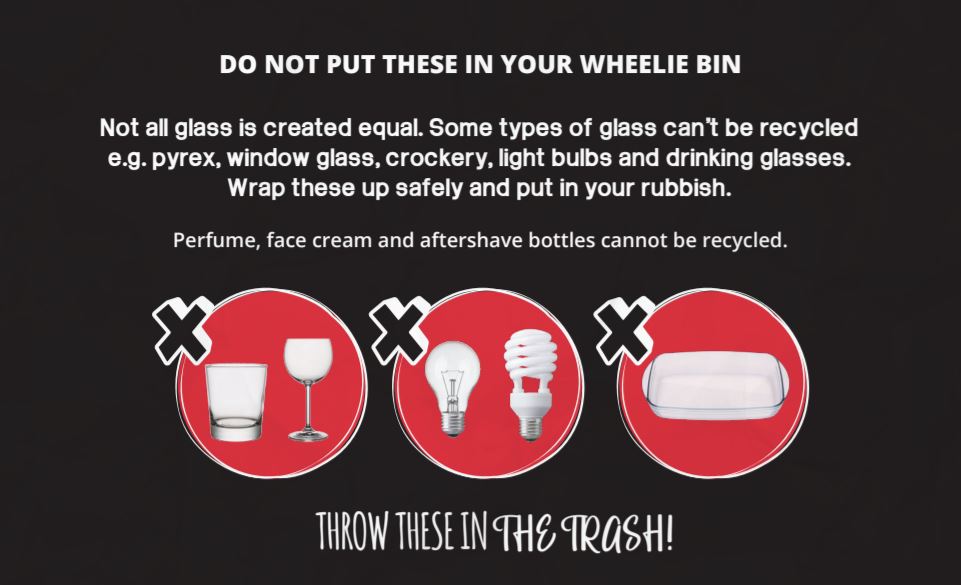 Collection day
You can find your collection day using our online tool. Just type your address into the search bar. Write these dates down on a calendar for easy reference. You can also give our customer support team a call on 0800 WAIPADC and they'll be able to tell you what your collection dates are.
We collect recycling on public holidays as well so no need to worry about any changes in your collection days.
On your recycling days, please make sure your wheelie bin is out on the kerbside by 7am with the Waipā logo facing the road. Your wheelie bin should be at least one bin space away from all other wheelie bins or objects such as trees or light poles to allow the recycling truck to lift it safely.
Missed collections
Missed your collection? You'll need to wait until your next recycling collection, or take your recycling to your nearest transfer station and dispose of it there.
Recycling guidelines and tips
Think you are an awesome recycler? Test your knowledge with our awesome recycling game at recyclewaipa.co.nz
Mixed recycling tips

Make sure all recycling is clean before it goes in the bin. Left-over food is no good and could contaminate an entire truckload of otherwise good recycling. Your recycling should be loose in the bin, there's no need to put it in a plastic bag or cardboard box. In fact, we don't want plastic bags at all in the recycling.
Glass bottles and jar tips
Make sure your glass is clean before it goes in the bin. Any plastic or metal lids go in the mixed recycling bin instead!
What can't go in your wheelie bin?
Plastics 3,4,6 and 7 - these are items like some yoghurt containers, ice cream containers and squeezy sauce bottle.
Polystyrene - Packaging beans, blue meat trays, moulded shapes, foam cups and polystyrene takeaway containers can't be recycled.
Large hard plastics - Items like a broken plastic chair or your old laundry basket are too large to be sorted safely. Any item large than 3L can't be recycled in the wheelie bin. Drop these at your local transfer station instead!
Industrial containers - Anything used for engine oil, fuel, solvents, paints and household or garden poisons. Ask your local transfer station about household hazardous waste services
Plastic bags, film and soft plastics - Any plastics you can scrunch up into a ball are no good for our recycling machines. They get caught and create breakdowns
Cartons - Cardboard cartons with a foil, plastic or waxed layer. These look like cardboard but are lined with plastic and are very hard to separate to be recycled. The most common types are milk, soy and juice cartons and coffee cups.
Recycling with food residue - Any recyclable products with food residue on them cannot be recycled in your wheelie bin. Wash them out first then they can go in the bin.
Extra recycling

If your wheelie bin is too full and the lid can't close completely it will not be collected. If the lid is not closed flat during the lift by the truck, the recycling may fall out.
Extra items placed next to or on top of the wheelie bin will not be collected.
If you have too much recycling to fit in your wheelie bin, try some of these tips:
Breakdown or flatten your cardboard (or consider using it in your compost!)
Take some recycling out and take it to your local transfer station, or hold it for your next collection.
Check you haven't put a large hard plastic item in there.
Worried about moving a full wheelie bin?
It doesn't have to be full to place it out, we recommend you place it out on each collection day.
Recycling contractors
The kerbside recycling service we provide throughout the district is paid for through your rates.
Metallic Sweeping Ltd are our current recycling providers and the service is available to residential properties subject to targeted rates.