Remember your reusables
It's time to remember your reusables and say goodbye to single use plastics!
Produce bags

From July 1 2023, the New Zealand Government has phased out single use plastic produce bags, plastic straws, plastic cutlery and requiring all fruit stickers to be compostable.
This phase out will result in 1.8 million plastic produce bags in Waipā not being produced, used and disposed of every year. For the country it will prevent 150 million single use produce bags being manufactured every year.
We have all gotten quite good at bringing our shopping bags, so now we just need to add our reusable produce bags to the mix. It's a perfect pairing! And we have options, we can purchase some purpose made reusable produce bags, use bags we already have or we can embrace "nude food"…intrigued? Read on!
Use bags we already have
Reuse beats single use every time!
Bread bags are great, just use a vivid to mark out the bar code and turn them inside out, to prevent accidental scanning.
If you're a fan of online shopping, you probably have a few courier bags sitting around. These are also perfect for heavier produce items like apples or potatoes. Courier bags are usually quite thick, so they can handle a lot of trips to the supermarket and back!
Pretty much any light plastic bag can be used!
Try to avoid heavy bags, like reusable shopping bags, as the produce will need to be removed and weighed separately, and that will take you some time at checkout.
Buy some
You can buy a few purpose made reusable produce bags or delicate wash bags from budget stores also work well!
Keep your eyes peeled for handmade or upcycled reusable produce bags at local craft markets, like Ruth's Recreations at the Pironiga Arts, Craft and Food Market.
Nude food
"Nude food" is where you place produce items directly in your trolley, onto the scale at checkout and then loose into your shopping bags.
All these plans are great, but totally useless if we forget our bags!
Tips to remember your reusable produce bags
Keep them inside your shopping bags.
Hang them up on the front door handle, so they get back into your car.
Keep a couple of spare bags in your glove box in case you do forget and for impromptu shopping trips.
If you want to know more about the Government's decision to ban produce bags and other small single use plastic items like fruit label stickers, straws, stirrers and cutlery please check out their website.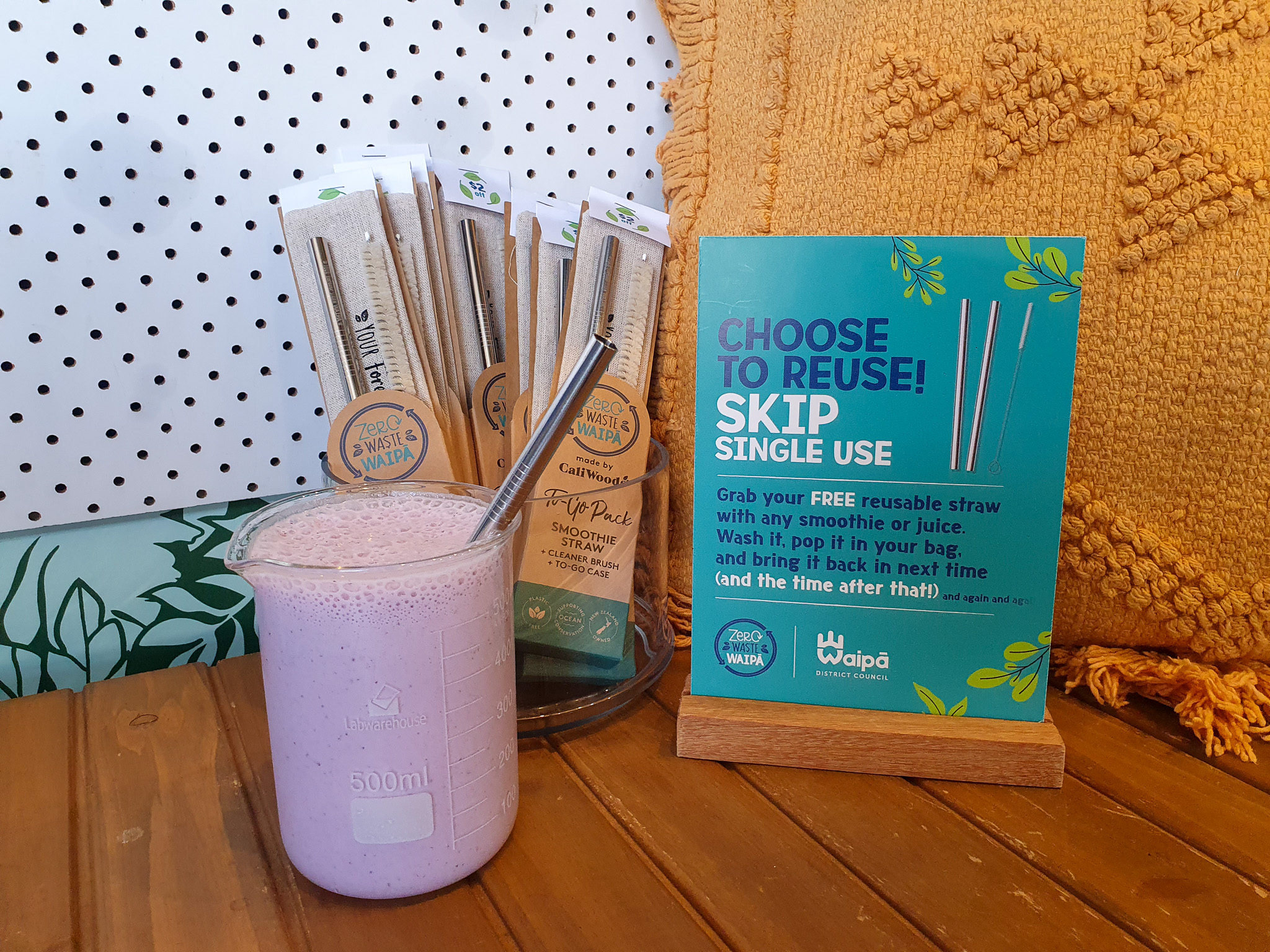 Straws
Did you know that plastic straws are in the top ten items collected in beach clean-ups around the world?
They are lightweight and easily get blown into drains, rivers and oceans. There, animals can mistake them for food and either become stuck in their airways or be fatal when ingested. In short, straws suck!
The Government is phasing out plastic and compostable plastic straws from July onwards. The Waipā Waste Minimisation Team encourage you to ditch straws altogether, or if you're finding soggy paper straws a bit hard to swallow - choose to reuse!
We're teaming up with your favourite cafes and juice bars to offer free stainless steel reusable straws. They come with a handy cleaning brush and organic fabric carry bag, so you can pop it in your bag and you'll never be caught short. Keep an eye out at your local and ask whether they're participating in Straw Free '23.
Please note: People with disabilities or health conditions who still need to use single-use plastic straws will still be able to request and use them.
Participating cafes offering free stainless steel reusable straws
Check out the complete list of stores where free stainless steel reusable straws are available while stock last.