Water treatment and supply

Water supply
We extract 26,410 cubic metres of water every day from source. Then it's treated and supplied to Cambridge, Karāpiro, Kihikihi, Ohaupo, Pirongia, Pukerimu, Te Awamutu and selected rural areas through one of our four water schemes.
Waipā water schemes
Cambridge Water Supply Scheme sources water from the Waikato River and two springs on Mt Maungatautari
The Kihikihi Water Supply Scheme sources water from two bores, one at Hall Street and the other at Church Street
The Pukerimu Water Supply Scheme sources water from the Waikato River
The Te Awamutu Water Supply Scheme sources water from the Mangauika Stream on Mt Pirongia and from a bore on Frontier Road
Where your supply comes from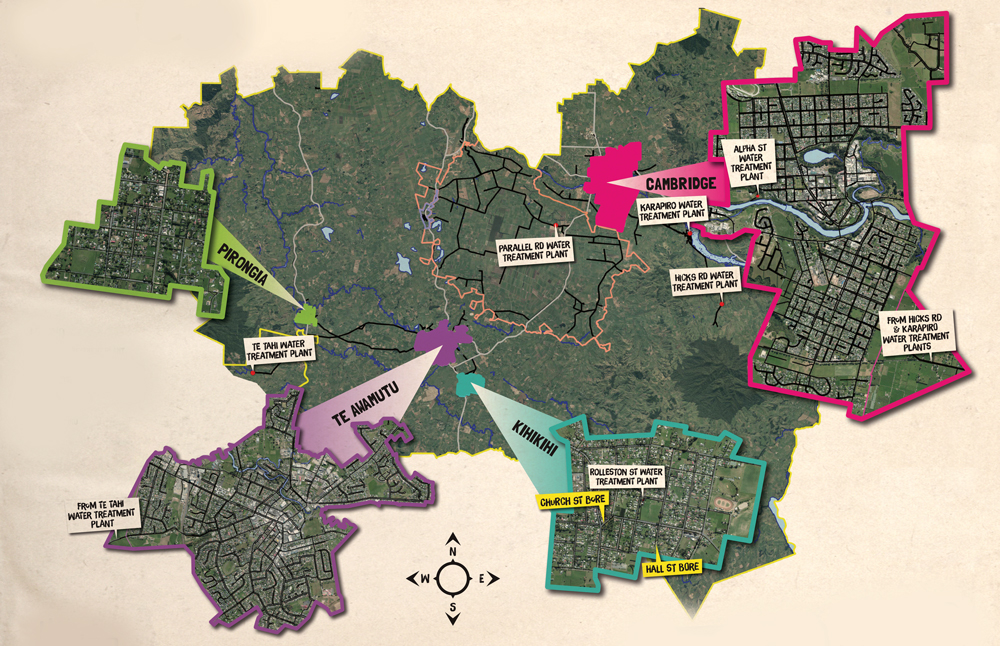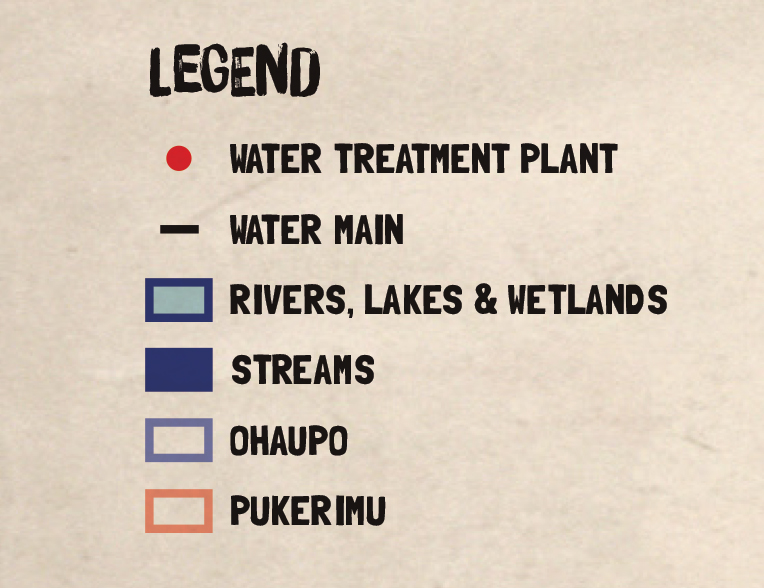 Water treatment
Waipā's water is treated so it's safe for you to drink, and complies with the New Zealand Drinking Water Standards.
Our seven water treatment plants across the district supply water to over 14,000 properties through 575 kilometres of water mains and pipes.
Learn more about how your water is treated:
Water taste and odour issues
If you've noticed a change in the taste and odour of your water, it's likely caused by increased levels of algae in the water supply.
Algae levels naturally increase in the summer, due to low flowing streams and warm temperatures. The water supply is still safe to drink and complies with the New Zealand Drinking Water Standards.
It is recommended that residents chill their water prior to drinking to help reduce the taste and odour.
Frequently asked questions
What is being done to make sure the water is safe to drink?
Your drinking water is protected by Council to address possible contaminants, including blue-green algae and associated taste and odour issues.
Our water supply is tested for the presence of any E. coli and for pH, turbidity and chlorine residual concentrations every week to make sure it meets the New Zealand Drinking Water Standards.
When algae levels increase in the summer, we test more frequently to closely monitor its presence and keep your drinking water safe.
Our water quality testing is verified by an independent, IANZ-accredited, Ministry of Health approved laboratory. Other agencies like Waikato Regional Council also monitor water quality for the presence of any algae.
Is the water safe to drink with this unpleasant flavour?
If you're on a public water system it's completely safe to drink and complies with all New Zealand Drinking Water Standards.
Some algae results in an earthy flavour or even an unpleasant odour and taste, even at very low concentrations. Chilling your water reduces taste and odour issues.
Water supplies owned and managed by Council are required to treat, disinfect, and manage drinking water for their customers. If there's a potential health risk, we'll notify you, provide instructions and take immediate steps to remove the risk.
What is Council doing to fix the problem?
Right now, our job is regularly monitoring water quality and keeping you informed of any significant developments.
Long term, we are working on solutions to try and reduce the algae blooms. The $25m Parallel Road connection project will significantly mitigate algae issues, and we expect to have it in service in 2021.
What is algae?
Algae is a naturally occurring organism found in fresh water.
Blue-green algae (scientifically known as cyanobacteria) are microscopic organisms that are naturally present in lakes and streams. Under certain conditions, blue-green algae can become abundant in warm, shallow, undisturbed, nutrient-rich surface waters that receive a lot of sunlight - such as a storage reservoir.
What happens when algae levels increase in the water?
If the algae levels are causing taste and odour issues, Council follows a Algae Response Plan, which states a number of actions:
Begin algae monitoring in treated water as well as the source water
Increase the frequency of tests we take to monitor the water supply
Continue source water visual daily checks of
Flush the raw water reservoir
Keep public informed
Make changes to our operational processes, like where we take water from to supply the treatment plants
Feeling unwell?
While algae can cause an unpleasant flavour, it's not dangerous or connected to adverse health effects. Council-supplied water is rigorously tested and meets all requirements of the New Zealand Drinking Water Standards and will not make you sick. If you or a family member is experiencing an upset stomach, we recommend contacting your doctor for advice.
Connections to Council Supply

If you require a connection to Council's network, an application form will need to be filled out and lodged with Council, along with the payment of appropriate charges.
If you find a fault in the network belonging to Council, please contact us as soon as possible by reporting it online or calling 0800 WAIPA DC (0800 924 723). This phone line is staffed 24/7.
If you find or suspect a fault on your own property, it's your responsibility to fix it and we strongly suggest you contact a plumber or drainlayer.
Water conservation
For more information about water conservation, please visit www.smartwater.org.nz
Water meters
For more information about water meters & rates, please click here
Water supply bylaw
View the latest bylaw documents: Bylaws