A special place of worship
The War Memorial Church in Pukeatua, 1955
Pukeatua's War Memorial Church is one of only two such special churches in the whole country.
The beautiful little place of worship was established in 1955, built by the small farming community of Pukeatua as a memorial and lasting reminder of those local young men who gave their lives in the two World Wars. Another similar war memorial church was built in 1954 in the tiny East Coast village of Tutira, 45km north of Napier. Both churches have historic building covenants over them.
During World War I, 44 young men from Pukeatua served overseas with 12 of them killed in action.
In World War II, a further 32 young men from the district saw overseas service, with seven losing their lives.
At the time the Pukeatua Church was built the district had no church and Sunday services were held in the local hall. The idea for a church for all denominations was first mooted in 1946 and was taken up with enthusiasm, with 500 pledged towards the building at the first meeting.
A special Act of Government was required for the church to be built on a site that was vested in the local authority. It was completed and fully furnished for a cost of 3,300 and opened debt-free on December 18, 1955 - a week before Christmas. An impressive number of dignitaries, led by Anglican Archdeacon J.D. Hogg, attended.
The church seats just over 80, with two small vestries. Behind the altar are two brass plaques, each inscribed with the names of those who gave their lives in the two World Wars. Three pews were donated by next of kin.
The names of those inscribed in the church for the 1914-1918 war are: Lieut. F. Brill; Lieut. E.S. Innes-Jones; Sgt. C.M. Rope; Tprs R.E. Hildreth; J.S. Sutherland; Pvtes E. Boyce; J.L. Houston; A. Hunter; H. Jemmett; J. Laurenson; M. Saunders; Rfmn P. Barren.
Those who lost their lives in the 1939-1945 war are listed as: Sgt. Ob. D.L. Rhodes; L.A.C. K.G. Weal; Sgt. C.A. Graff; Cpl J.C. Donald; Pvt. R. McKee; Tpr. C. Woods.
These days an Anzac service is held at the church each year and an Anglican church service is held every two months. The church is also used for local weddings and funerals.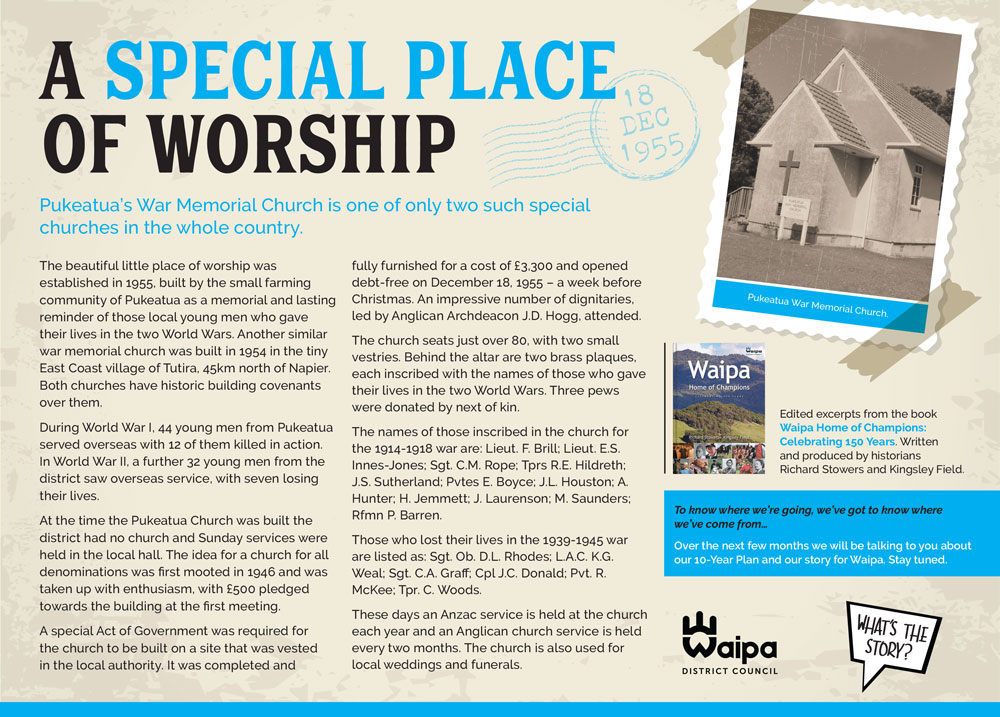 Edited excerpts from the book 'Waipa Home of Champions: Celebrating 150 Years'. Written and produced by historians Richard Stowers and Kingsley Field.