By river to the Waipā

Boarding after attending a summer picnic in Ngāruawāhia, 1921
The Waikato and Waipā rivers were the original routes into the heart of the Waipā district.
General Cameron used the routes in his bid to outflank and bypass fortified pā, where Māori were expected to resist the European invasion. With the establishment of military outposts at Cambridge and Alexandra, rivers became the chief routes for supplies, soldiers' families and settlers.
Within a short period of time the two rivers became scenes of heightened activity with as many as four boats a day plying the rivers from Ngāruawāhia to Cambridge and Alexandra. The main company operating river traffic was the Waikato Steam Navigation Company which built a large wharf and storage shed in Cambridge at the junction of the Waikato River and Karāpiro Stream. The larger riverboats operating on the two rivers were the Bluenose, Waipā, Rangiriri, Waikato and Delta. The Rangiriri was sold out of Government service in early 1868.
But using river transport wasn't cheap. In 1876, Waikato Steam Navigation advertised freight from Auckland to Cambridge and Alexandra as: Up river 45/- [45 shillings, or 2 5s] a ton; Down river 35/- a ton; Timber 3/- a 100 ft; Cabin passenger 5/-; Deck passenger 3/6 [3 shillings 6 pence]; Horse 5/-; Buggy 5/-.
In 1881 a new wharf was built below the west end of Duke Street, below today's Cambridge Primary School. The goods were hauled up the steep bank by a two-way trolley system powered by a stationary steam engine. Most of the cargo that came ashore was coal, timber and general building materials.
The Waikato Times reported in February 1881 that river traffic to Cambridge was very brisk. Besides boatloads of general merchandise brought up daily by the Delta, she invariably brought up in-tow a loaded barge. The barge was usually loaded with timber.
Picnickers and revellers were conveyed down both rivers on the Delta and Rangiriri, and later on the Freetrader and Pioneer, to Hamilton and Ngāruawāhia on Boxing Days and New Year's Days. Usually the local brass band was on board, and there was dancing on the deck.
By the 1920s, river transport was still popular and economically viable. By then the Roose Shipping Company dominated trade on the Waikato and Waipā Rivers. However, the river trade could not compete with the railway, and road transport on sealed roads. The regular service provided by river transport soon declined and eventually discontinued.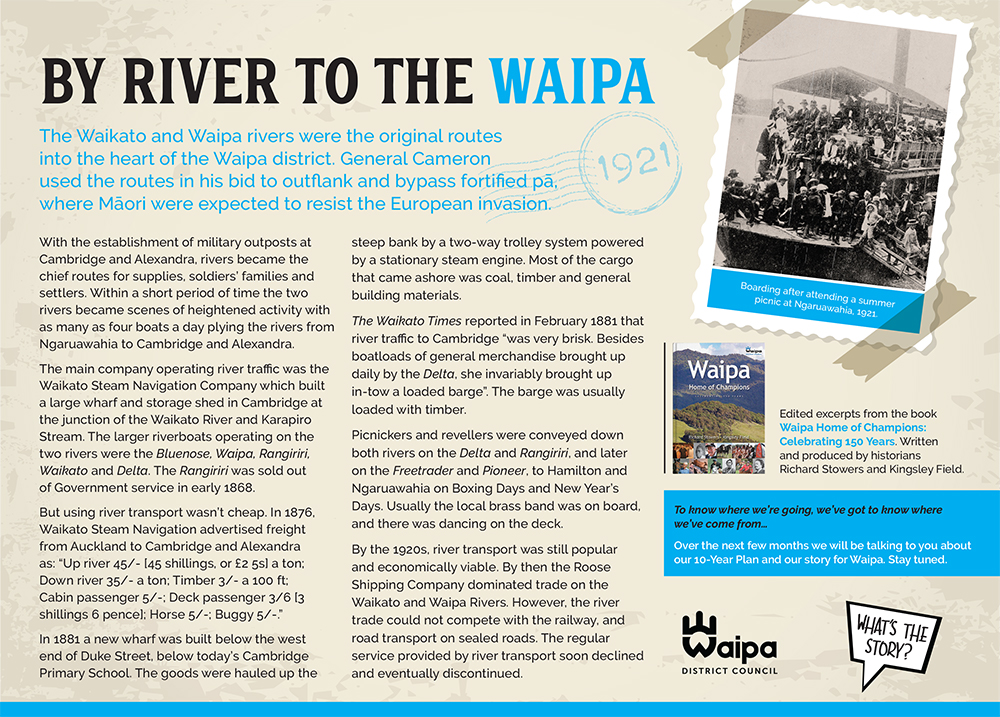 Edited excerpts from the book 'Waipa Home of Champions: Celebrating 150 Years'. Written and produced by historians Richard Stowers and Kingsley Field.