Empire Games rowing regatta
More than 20,000 spectators watched the races, 1950
Lake Karāpiro was formed in 1947 after the completion of the Karāpiro hydroelectric dam. Its potential to become the best rowing venue in New Zealand was soon recognised when the 1950 Empire Games regatta, the first international regatta held at the venue, attracted more than 20,000 spectators to watch just five races.
After the 1949 Dominion championships was successfully held at Karāpiro, the venue was chosen as the site for the rowing events at the 1950 Empire Games, despite being 150km from games headquarters in Auckland. The course was laid out at the western side of the lake, with the finish line 400m fr om the dam. The Australasian and South African competitors arrived a fortnight before race day and the English a week later. Athletes, officials and support staff bunked down in army huts.
Race day was 6 February (Waitangi Day), a Monday and not then a public holiday. The first of more than 20,000 spectators arrived in the early hours of the morning to grab the best positions. This was the biggest crowd at the Empire Games apart from those attending the athletics at Eden Park, Auckland. The average admission price was six shillings. A natural grandstand' had been prepared by bulldozer to give the spectators a good view over the course, and huge white marquees offered refreshments and shade.
All five races were for men only. The most exciting race was the eights, in which Australia overtook New Zealand (represented by the West End crew from Auckland) to win. Over the last 500 metres both crews fought hard and the New Zealanders' small lead was clawed back by the Australians to win by just 30 centimetres. Australia also won the pairs and both the double and single sculls.
The New Zealand crew of Ted Johnson, John O'Brien, Bill James, Bill Carroll and Colin Johnstone won the coxed fours. The Australian crew fought well in the early stages of the race but the strong New Zealand crew had two lengths by the 1500 metre mark and went on to win easily.
Australia's Mervyn Wood was the only rower to compete in two events, the single and double sculls. He won gold in both. Only one of the 51 competitors who raced on the day missed out on a medal - the New Zealander who came fourth in the single sculls.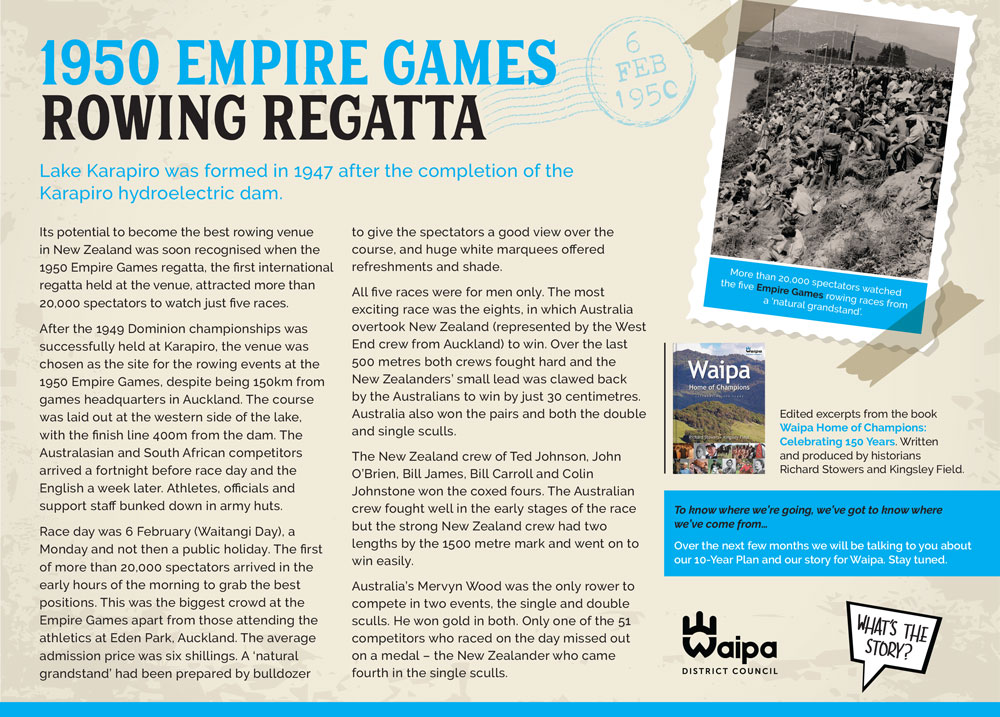 Edited excerpts from the book 'Waipa Home of Champions: Celebrating 150 Years'. Written and produced by historians Richard Stowers and Kingsley Field.