Giant sheep fairs at Ōhaupō

Some of the 20,000 sheep at the fair in 1896For nearly 50 years, Ōhaupō was the centre of the sheep and cattle trade for the Waipa and Waikato counties, with fairs (auctions) being held in the small township's extensive sale yards located alongside the Main Trunk Line.
The earliest known Ōhaupō sheep fair was in 1876 and the last was held in the early 1920s, when stock numbers available for large-scale fairs dwindled and sales became uneconomic.
Ōhaupō was well suited for the sheep fairs, as it was centrally located for most buyers in the upper North Island and easily accessed by rail, with much of the stock put up for sale entrained from Hawke's Bay and Wairarapa.
A traveller on the Main Trunk Line once commented, At Ōhaupō there is evidence of an important farming district in the extensive cattle and sheep sale yards, and shunting and adjusting of trucks filled with sheep.
The Ōhaupō sheep fairs fetched excellent market prices. Dalgety and Co. held a sheep fair in Ōhaupō during February 1914 where, bidding was spirited throughout the sale, and every pen offered was sold under the hammer. Wethers and aged ewes were in extra good demand and sold at advanced rates.
Prices realised were: 4-tooth wethers, 15s 4d to 16s 4d; 2-tooth wethers, 14s 3d to 15s 8d; Fat ewes, 14s to 16s; Woolly lambs, 8s 10d to 10s; Shorn lambs, 8s 11d to 11s 4d; Small lambs, 6s 1d to 6s 8d; 2-tooth ewes, 13s 9d; 4-tooth ewes, 17s; Ffm [fresh full mouth] ewes, 12s 4d to 13s 2d; Fm [full mouth] ewes, 11s 9d to 12s 6d; Broken mouth ewes and culls, 7s 6d to 10s 6d.
Sheep farmers and agents attended from as far afield as the King Country, Northland, Bay of Plenty and Taupo, as well as neighbouring districts. In the heyday of Ōhaupō sheep fairs, as many as 20,000 sheep were sold.
The Ōhaupō Railway Station was recognised as having the most sheep traffic, and the second most cattle traffic, of any station between Auckland and Palmerston North. New Zealand Railways benefitted hugely.
The Te Awamutu Magistrate's Court was also kept busy prosecuting sheep farmers for exposing sheep for sale at the Ohaupo yards whilst being affected with lice. Court fines mostly varied from 1 to 2, with a maximum fine of 10.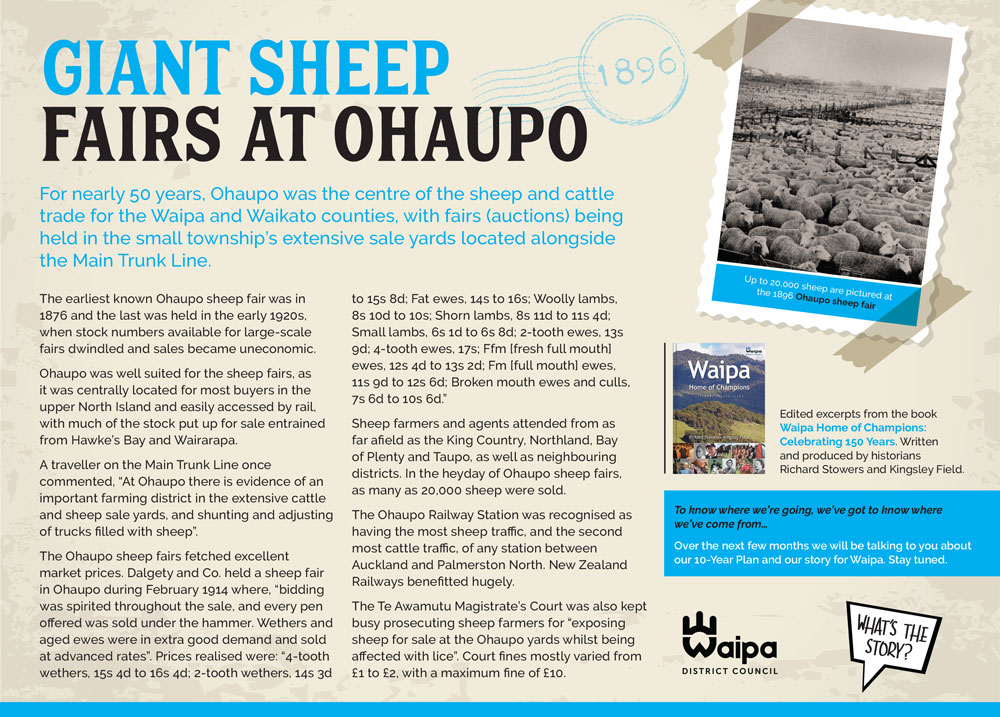 Edited excerpts from the book 'Waipa Home of Champions: Celebrating 150 Years'. Written and produced by historians Richard Stowers and Kingsley Field.