Schooling begins
Pupils of the Ōtāwhao Mission School, with Rev. Morgan standing at the right, 1877
Formal European-style education in the Te Awamutu area dates back as far as 1839, when a school for Māori children was set up at a Christian pā established at Ōtāwhao, the present site of the petrol station in Mahoe Street.
Rev. B.Y. Ashwell began using the pā for daily worship, school and Sabbath services. By 1847 a building dedicated to teaching had been built, with students expected to complete five hours of learning each day. They were then required to work a further five hours on the adjacent school farm of 173 acres.
Officially the school opened in 1849, with teaching available only to 23 boarders of mixed ethnicity. A year later there were 40 pupils, and the Government had supplied the school farm with horses, farm equipment and a farm instructor. Instruction was given in English only so that the half-caste children should become familiar with their fathers' language, notes one report of the time.
At its height in the late 1850s, the school had a roll of 80. But this figure slumped in 1860 as bitter differences grew between Māori and Pākehā over land ownership and the school was closed in 1863. It never re-opened.
Te Awamutu School opened in temporary premises on Monday, 8 January 1877 in the Public (sometimes referred to as Volunteer) Hall, with an uncertified teacher, Rev. R. MacLaurin. Some parents and the school committee became unhappy with Rev. MacLaurin's lack of credentials and he was replaced by a brief succession of certified teachers: A.R. Miller (August to December 1878); J. Edwards (January 1879); and then a Mr J.W.S. Standfield, who took up the job permanently in February 1879.
A single permanent classroom was opened in April 1880 - a room of 13m x 6.5m with a porch at either end. By May 1892 the school had 103 pupils and 18 months later there were 113.
Such was the congestion that the school committee decided to exclude all students over the age of 15. By 1915, the roll was up to 245 and by 1920 cramped conditions saw teaching being carried out at four different locations about the town. By 1929 the primary roll was 390, with a further 83 secondary students.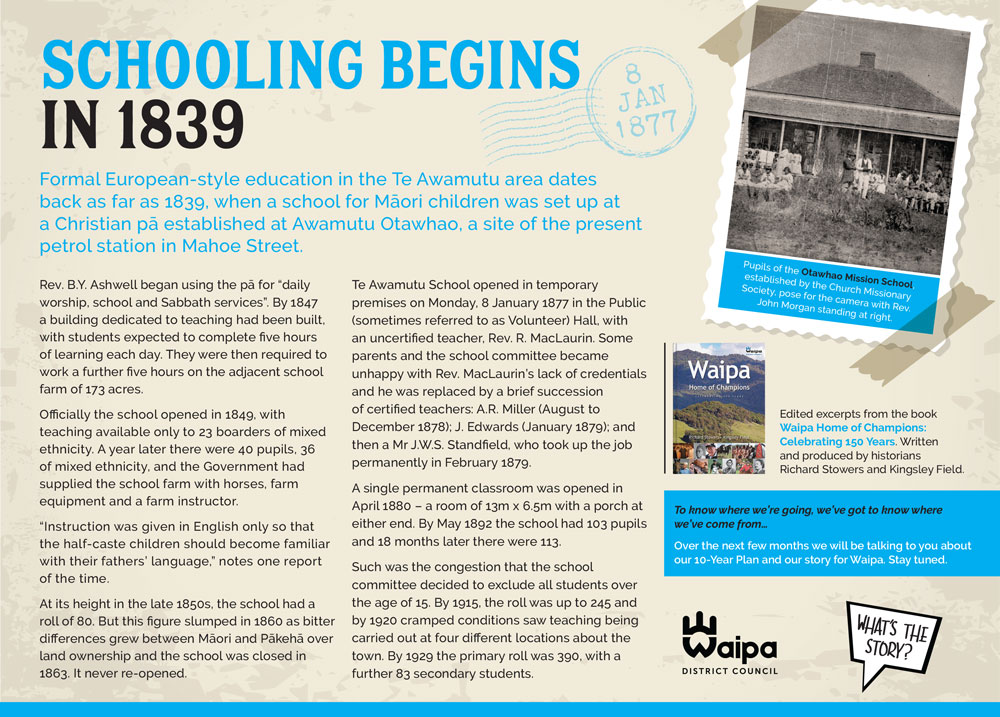 Edited excerpts from the book 'Waipa Home of Champions: Celebrating 150 Years'. Written and produced by historians Richard Stowers and Kingsley Field.