Te Awamutu's first newspaper
Masthead of The Waipa Post, published 18 April 1911
Te Awamutu's first newspaper, The Waipa Post, hit the streets on Tuesday, 18 April 1911. It was a single large sheet of newsprint, folded in half to form four broadsheet pages.
As was the custom of those days, the seven column pages were largely devoted to advertising, much of it in single columns but with a sprinkling of multi-column advertisements from local retailers eager to inform the townsfolk and nearby rural residents of their wares.
Previously the town had been served by the Waikato Argus, initially published in Ngāruawāhia and then in Hamilton, and carrying advertisements of no great interest to Te Awamutu people. The locals were delighted to have a newspaper they could call their own.
Heerdegen & Co offered buyers a range of fresh fish, packed in ice and brought in from Thames; the Farmers' Cooperative Auctioneering Company advised farmers that Bodmin's Celebrated Sheep Medicine Parasitocide showed no mortality in sheep after use; Mr Wm Milburn, late of India, was at present on a visit to Kihi Kihi; and the draining of the Kawa swamp was proceeding as fast as circumstances will allow, and that when the swamp was drained another 5000 acres will be available for pasture which will affect the future of Kawa to no small extent.
Fat and store cattle, sheep and pigs were offered for sale and draught horses, light harness horses and hacks were also widely advertised. Sales price for the newspaper was one penny.
Its second edition, published the following Friday, carried a front-page advertisement by Mr W.H. Poolman, tailor and ladies' costumier, who desires to thank his numerous patrons and friends for the liberal support accorded him during the past four years in Te Awamutu and to advise that owing to the expiration of lease, he has moved to Kihi Kihi. News reports covered hockey, Te Pahu news, football, weather information, and farming news.
The newspaper, owned and run by A.G. Warburton, thrived. Fire damaged its Alexandra Street premises in 1927 and it changed its name to Te Awamutu Courier in 1936. It was purchased by Wilson and Horton (later APN) in 1992.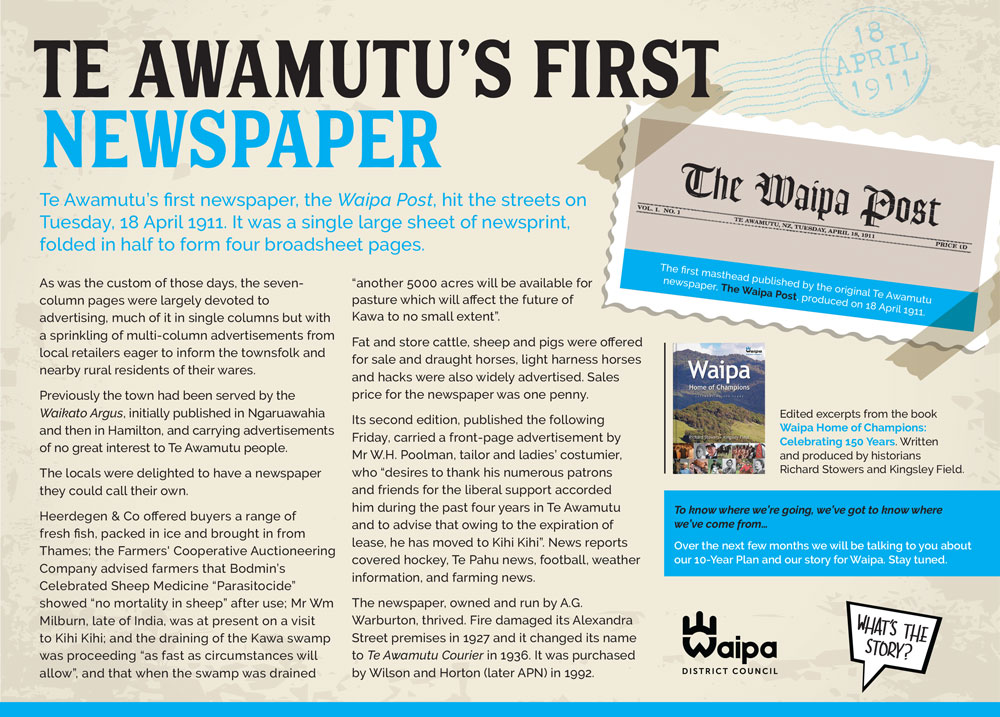 Edited excerpts from the book 'Waipa Home of Champions: Celebrating 150 Years'. Written and produced by historians Richard Stowers and Kingsley Field.