The great Waipā ball
The first dance was performed by "no less than 40 couples".
A great ball was held in the new Alexandra Public Hall on the evening of 10 August 1876. It was a grand occasion with more than 100 guests attending.
Guests hailed from Ngāruawāhia, Cambridge, Te Awamutu, Kihikihi, Hamilton East and West, Harapepe, Ohaupo and all the small settlements around Alexandra (now known as Pirongia).
According to a Waikato Times reporter, the hall had been decorated with festoons of evergreens, crossing one another in every direction. Suspended from the centre, the flags of St Andrew's Cross, and the red, white and blue drooped gracefully over the heads of the dancers. The greenery was mostly giant ponga and nikau fronds. At one end was a large Union Jack and at the other the British Ensign. Beside the ballroom were a supper room, card room and dressing rooms.
The guests started filing into the hall after 7pm. The men wore uniforms and dark suits, while the ladies wore long full dresses in pale pink, salmon, light blue, maize and apple green.
Seats were placed around walls and the floor had been well waxed. The small orchestra consisted of a cornopean (type of cornet), ophicleide (predecessor of the tuba), piccolo, clarinet, and piano. The first dance was a quadrille performed by no less than 40 couples in rectangular formations.
A programme set out the evening's 24 dances, a mixture of quadrille, polka, waltz, lancer, cotillion, la varsovianna, galop, Caledonian, mazurka, Schottische and Highland Schottische dances, ending with a Sir Roger de Coverley.
Halfway through the dance programme there was a rush for the supper room. For some time your voice was useless, as the clatter of knives and forks, the rushing to and fro of the attendants, the rapid disappearance of viands and liquids of every description, and the confused murmurs of the orthodox supper flirtations were all that could be seen or heard.
During the supper there was a toast to the Queen, His Royal Highness the Prince of Wales, Sir Donald McLean, the Army and Navy, Colonel William Lyon who was present and the good health of the ladies.
The guests then returned to the ballroom and dancing continued. Daylight was stealing in through the window when the last dance was concluded.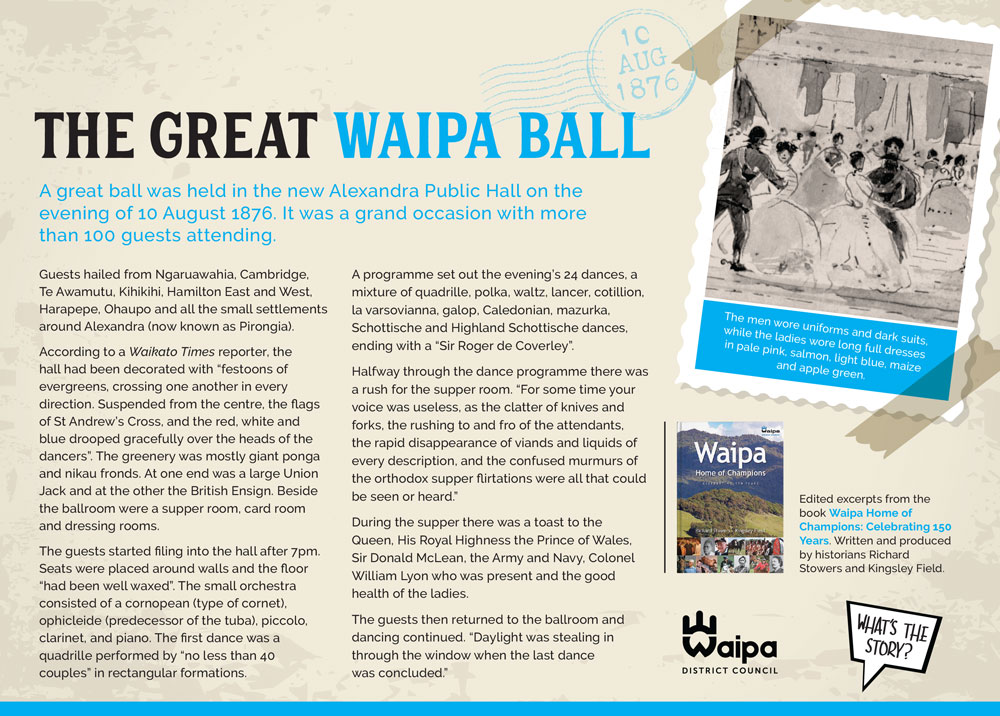 Edited excerpts from the book 'Waipa Home of Champions: Celebrating 150 Years'. Written and produced by historians Richard Stowers and Kingsley Field.