"We will fight on for ever and ever!"
Rewi Maniapoto, aged in his 80s, on the day his monument was unveiled in 1894
Rewi Manga Maniapoto was born in the Waipā about 1810 and belonged to Ngāti Paretekawa, a hapū of Ngāti Maniapoto, and was educated at a Wesleyan mission.
In 1831 he was a member of Pōtatau Te Wherowhero's war party which captured Pukerangiora in Taranaki from Te Ati Awa. Rewi soon became well known for his oratory, leadership, knowledge of traditional customs and practices and military skills.
In the 1850s Rewi emerged as a prominent supporter of Kīngitanga (the Māori King movement), and led a Ngāti Maniapoto war party to Taranaki in 1860.
He returned convinced that the Government intended to undermine Māori authority over their nationality and land, and he mobilised support for his views from Ngāti Maniapoto and Waikato Māori. In March 1863 he organised a party which sacked Government magistrate John Gorst's office at Ōtāwhao and ousted Gorst from the Waikato.
Gorst's expulsion marked Rewi's control over Kīngitanga politics and showed he was determined to act. When General Cameron's forces invaded the Waikato, Rewi and Ngāti Maniapoto made a desperate stand at Ōrākau. Although Rewi advised against it, he was determined to lead his people.
When Cameron called on the defenders to surrender, Rewi is said to have replied: Ka whawhai tonu mātou, Ake! Ake! Ake! (Translation: We will fight on for ever and ever!)
After the Waikato War, Rewi negotiated a peace settlement to ensure the inalienable retention of Māori lands in Māori hands. When meeting with native minister Donald McLean in November 1869, Rewi declared he would cease fighting.
Over the following decades Rewi was involved in Māori politics, the issue of land sales and the Kīngitanga movement. The Government built him a house in Kihikihi in 1881 in return for his giving up claims to a Crown grant and waiving his pension. Later in 1885, he and Te Wahanui permitted the Main Trunk Railway to enter the King Country.
A monument honouring Rewi was constructed on the corner of Lyon and Whitmore streets in Kihikihi and was unveiled in 24 April 1894. Rewi died two months later on 21 June.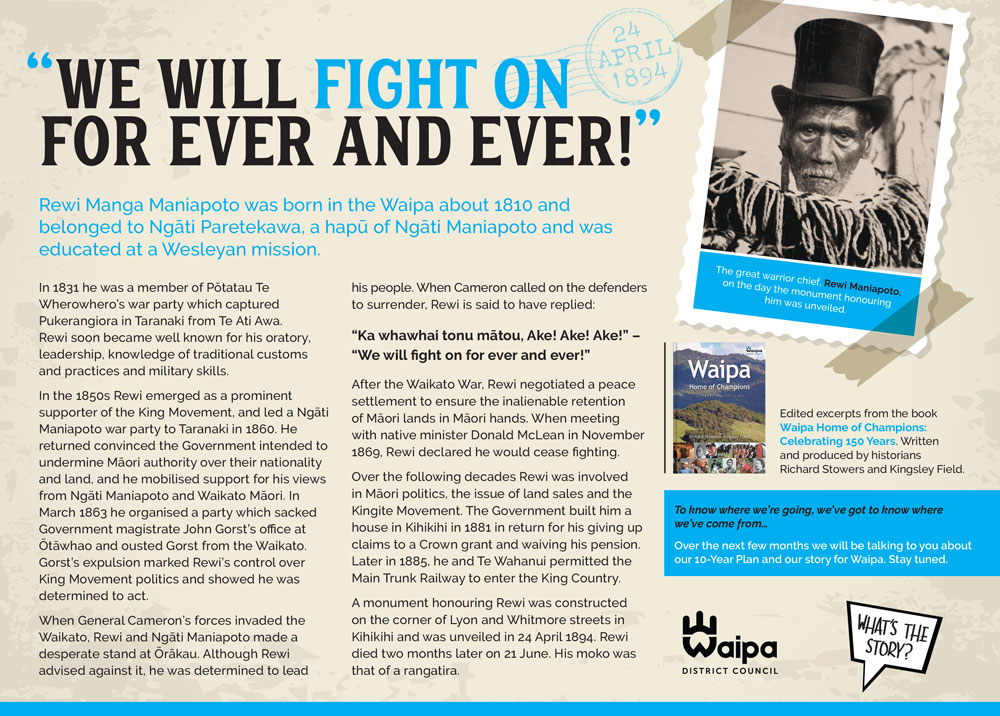 Edited excerpts from the book 'Waipa Home of Champions: Celebrating 150 Years'. Written and produced by historians Richard Stowers and Kingsley Field.