Hanlin Road intersection
We have built a roundabout at the intersection of Hanlin Road and Cambridge Road to improve safety and access to the Avantidrome and St Peter's School. Around 10,000 vehicles pass through here every day, and this number significantly increases when events are on in the area. It's also an access point for the Te Awa River Ride track, the bike skills park, a café and a gym so traffic numbers are likely to continue to grow.
Latest update
After almost a year of hard work, the Hanlin Road roundabout is now complete. The final touches on the project; landscaping and accessways to the Velodrome and St Peters School, are now complete and the roundabout is looking great.
The Project
Build stages:
There are five stages to the Hanlin Road project. These are:
Stage 1: Finalise detailed design and undertake pre-construction works. Complete.
Stage 2: Construct temporary road access and move power lines. Complete.
Stage 3: Undertake major roundabout construction between February and September 2020. Complete.
Stage 4: Reinstate roundabout access and remove temporary access in September 2020. Underway
Stage 5: Complete landscaping and other finishing touches in late spring.
The Final Design
Here is the new layout for the Avantidrome and St Peter's School intersection including the temporary road.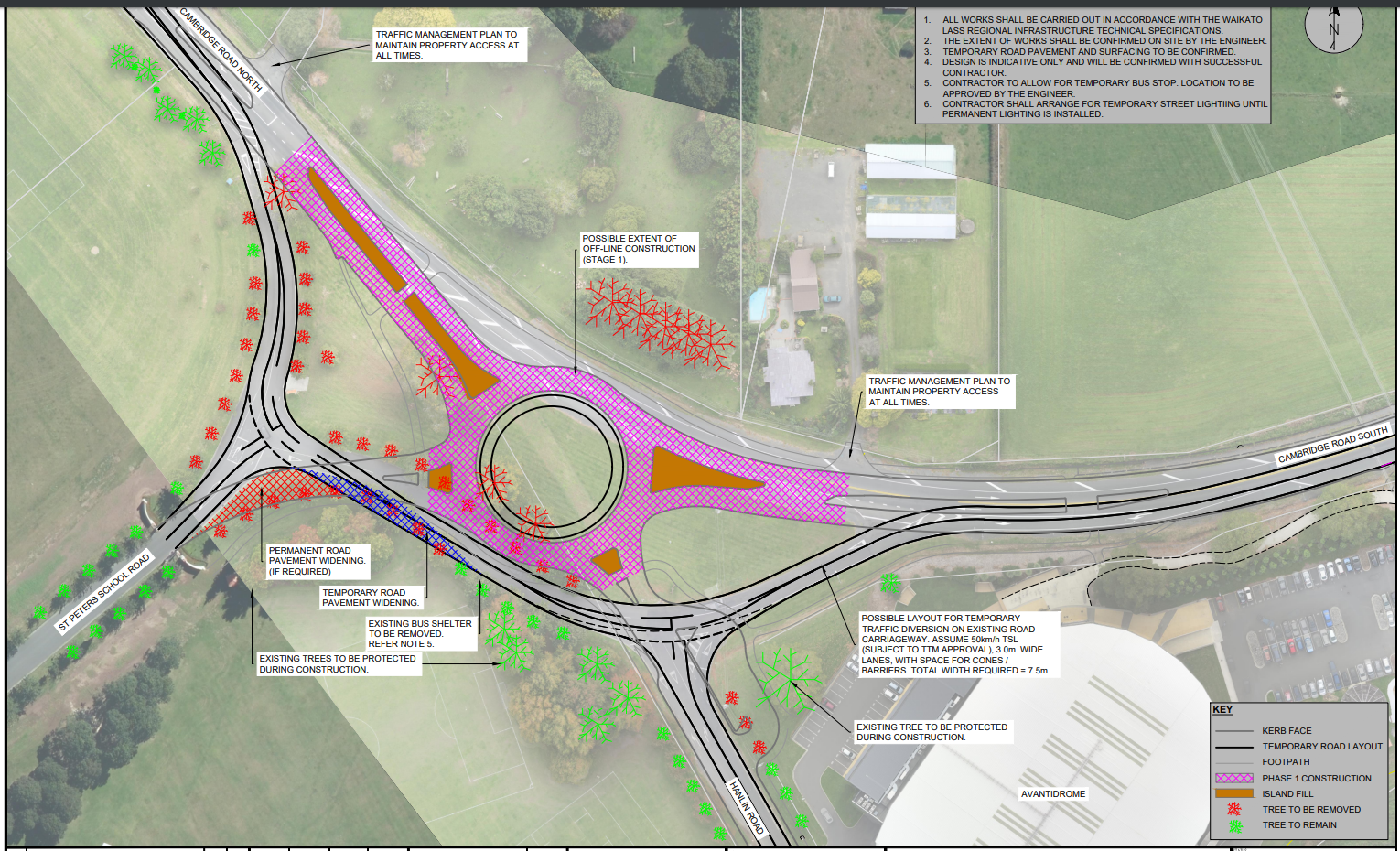 The new intersection includes:
access to St Peters, Avantidrome, Hamilton and Cambridge Roads,
a bus stop next to the Avantidrome,
a pedestrian refuge on Cambridge Road,
improved access to Gallagher Bike Skills park,
shared paths and cycleways connecting to Cambridge, and
new stormwater wetlands to help collect stormwater and groundwater.
View of proposed design, from south:
View of proposed design, from west:

Background
The existing intersection is not working. It does not provide a safe entry and exit point for motorists and does not cater for cycling and pedestrian access. More specifically, the major concerns are:
high-speed traffic in the area means it's unsafe for cyclists and pedestrians trying to cross Cambridge Road
the current layout of the intersection and mix of high-speed traffic along Cambridge Road means there is a risk of fatal and serious crashes
the current layout of the intersection cannot effectively deal with more traffic and predicted growth.
Since 2012 there have been 12 crashes within 300m of the intersection. One of these was fatal, involving a vehicle turning right out of Hanlin Road.
Cambridge is growing and the intersection needs to be improved to provide a safer option for all users.
How do we fix it?
We need a safe intersection that works for everyone. We need an intersection that is:
safe and self-explanatory for all users
located in the right place
also caters for pedestrians and cyclists
can cope with the increased traffic that we are expecting in the future
will provide access to areas of potential growth.
Why a roundabout?
We looked at a number of options including improvements to the existing T-intersection and adding traffic lights. We believe a roundabout is the best solution because it:
improves intersection safety. Roundabouts result in fewer deaths and serious injuries than traffic lights or T-intersections
can cope with the increased traffic that we are expecting in the future
is flexible and has the capacity to manage changes in demand and areas of potential growth
will create an even traffic flow when events are on.
How much will it cost?
Council and NZ Transport Agency are working together to jointly fund the project.
Public consultation
In September 2017, we asked you what you thought about our plans to build a roundabout outside the Avantidrome and St Peter's School.
We looked at options for:
making a welcome entrance such as a feature in the centre of the roundabout
pedestrians and cyclists such as a pedestrian refuge, traffic lights and an underpass
other improvements including access to properties, improved road layouts, carparking and shelter and parking for the bus stop facility.
Here's what you told us:
What do you think should be in the centre of the roundabout?
What do you think is the best option for people walking and riding bikes?
Once the intersection is built would you walk or ride your bike around the area?

We took into account public feedback and moved the bus stop closer to the Avantidrome so that bus users don't have so far to walk.
We also incorporated a pedestrian refuge in the design to make it safer for anyone crossing Cambridge Road. Forty-three per cent of submitters told us a pedestrian refuge was their preferred option to cross this road.
A feature for the centre of the roundabout has not yet been confirmed.