Lake Te Koo Utu Raingardens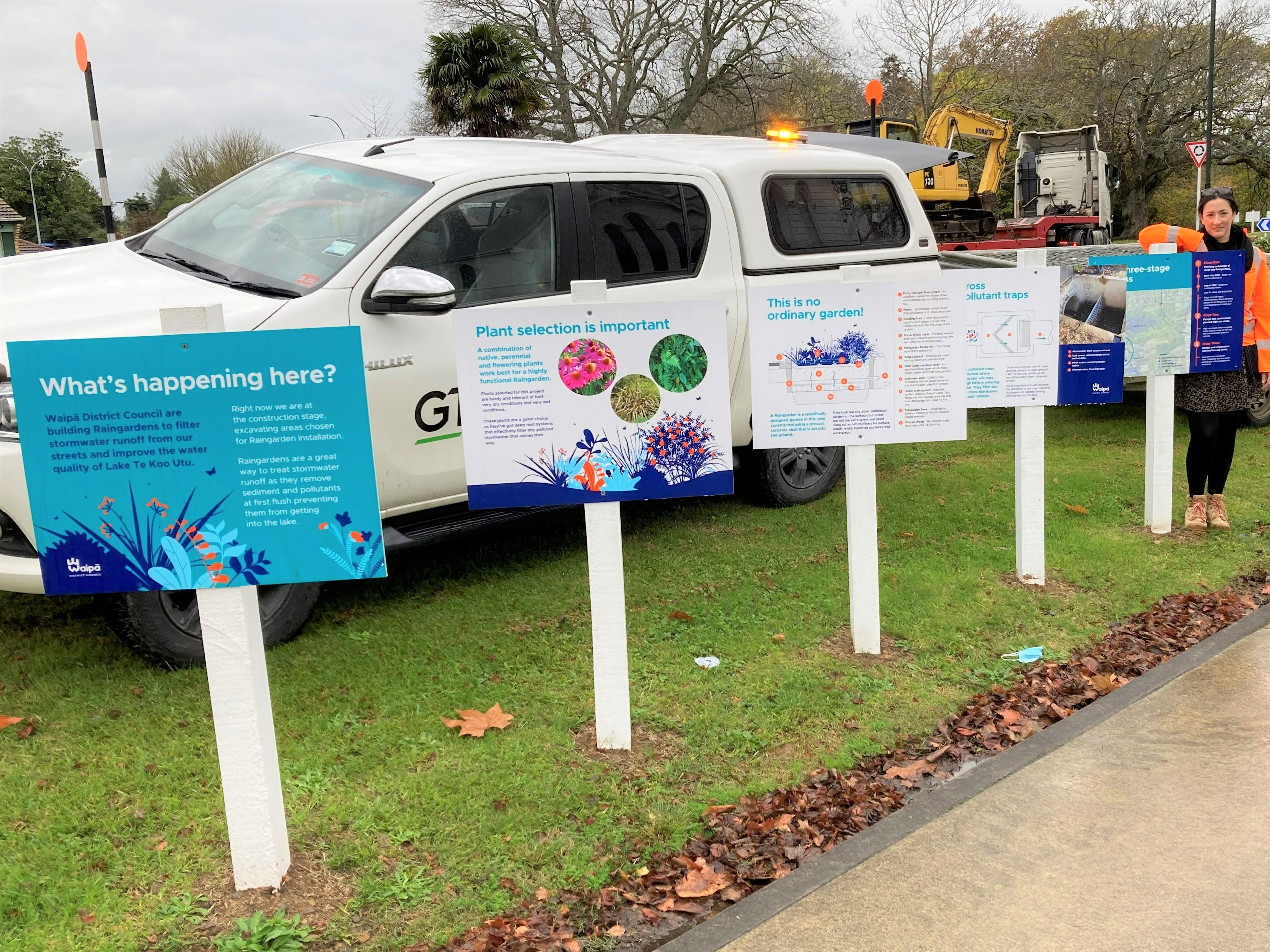 Our mission
Our mission to filter stormwater from the streets of Cambridge to reduce the amount of pollutants entering Lake Te Koo Utu is well underway.
In March, we started the first of a three-stage process to build several raingardens to treat stormwater runoff before it enters the lake. The current stage of work is programmed to end in June.
Installing raingardens is one of our early approaches to begin improving water quality over the next 20 years as a part of the Lake Te Koo Utu concept plan, adopted in 2021. Funds for the design and installation costs were allocated within the 2021-31 Long Term Plan.
Purpose of a raingarden
The first step in improving the water quality of Lake Te Koo Utu saw our water services team focusing on treating stormwater at the town's busy intersections, such as Victoria Roundabout.
A raingarden looks like any other traditional garden on the surface, but under the soil, there are layers of various media and plant roots that act as natural filters for surface runoff.
The gardens help provide a place for rainwater to soak into the ground allowing a natural filtration process to remove contaminants such as oil, petrol, zinc, and rubber from cars which are collected in rainwater and eventually made their way into the lake.
Proprietary devices in this sense are other devices that can be fitted in stormwater flow areas that will also filter pollutants out of water.
An example of this is the Gross Pollutant Trap of which there is a number already in use at Lake Te Koo Utu. Gross Pollutant Traps collect larger pollutants like sticks, leaves and rubbish and prevent them from entering our waterways. This project has the obvious and intended benefit of cleaning up the Lake.
Raingardens can also play an important role in protecting habitat and helps with climate resiliency.
See the signs
An adjacent opportunity is to highlight the raingardens to the Waipā public in a way that provides educational opportunity and seeing a beneficial piece of infrastructure in action that they then could choose to implement in their homes to the benefit of all water bodies.
In light of this educational opportunity signage has been developed and has been set up along the walkway near the lake and raingardens that can highlight usefulness of the raingardens, why we need them and how they could be implemented by anybody.
Give us your thoughts here. Use subject 'Raingardens'
FAQs