Te Awamutu War Memorial Park bridge upgrades
From 19 April to early July 2022, we are installing two new footbridges in Te Awamutu's War Memorial Park to improve and re-establish pedestrian and cyclist access across the Mangaohoi Stream, which runs throughout the park.
The bridges are part of the wider plan for the park and also form important connections to the Pioneer Walkway, which runs from Te Ara Kihikihi to Te Awamutu College. This will also improve pedestrian, disability, mobility scooter, pushchairs and cycling access in the area and improve transport choices around town.
This work is part of the final War Memorial Concept Plan, adopted by the Strategic Planning and Policy Committee on 1 June 2021.
This work will reinstate the bridges crossing the Mangaohoi Stream, which commemorate the New Zealand Army (Papatūānuku), the Royal New Zealand Air Force (Ranginui) and the Royal New Zealand Navy (Tangaroa), and have been designed in collaboration with the Te Awamutu Returned and Services Association (RSA) and mana whenua.
What's the timeframe?
Installing new bridges takes a few steps, preparation for the bridge's delivery, installing and connecting the bridges and reinstating the area.
To undertake the preparatory work for the installation of the bridge, we have cordoned off the work site on the north side of the Mangaohoe Stream since 19 April 2022 so we can get ready for the bridge's arrival and installation. This is the area where the current dog exercise area is so dog-walkers will need to use other exercise areas. Check out other dog exercise areas here.
To be announced: We'll be driving the piles into the southern side of the bridges (near the children's playground by the pond) once the new bridge has been painted.
Access to the children's playground and pond will be maintained throughout the work programme.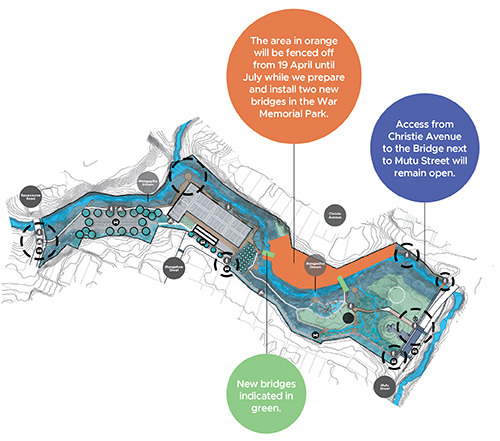 One of the bridges in War Memorial Park was closed on October 2017 due to safety concerns following a structural assessment. Click here to read more.