Waipā Cemetery Concept Plan
Project Timeline
| | |
| --- | --- |
| Survey opens | Monday 13 June 2022 |
| Survey closes | Friday 8 July 2022 |
| Florist vouchers winners selected | Thursday 14 July 2022 |
| Reviewing feedback and drafting concept plans | July – October 2022 |
| Report to Community Boards and Council | December 2022 – February 2023 |
| Seeking feedback on draft concept plans | Early 2023 |
| Finalising concept plans | Mid 2023 |
The survey is now closed. Thank you to everyone who provided their feedback, we received 73 submissions. The six florist voucher winners have been selected and vouchers will be sent out to the winners.
The team will now be reviewing the responses and feedback from mana whenua and the RSA, and will start drafting the concept plans for each cemetery.
There will be an opportunity to provide feedback on the draft concept plans in early 2023.
To provide further feedback or to ask any questions please email cemeteryconceptplans@waipadc.govt.nz.
Council is embarking on a project to develop concept plans for Waipā's 10 public cemeteries to respond to growth pressures, a current high standard burial to ash interment ratio and changing adjoining land uses.
We are addressing issues such as insufficient seating, shade, cultural infrastructure, accessible paths and toilets, access/egress safety issues, maintenance challenges and areas that are unsuitable for standard burials.
These plans will guide Council's development of the cemeteries for at least the next 20 years.
We are seeking initial thoughts on our cemeteries to inform the drafting phase. We want to understand what mana whenua and our wider community want to see improved at our cemeteries.
We are also keen to identify what opportunities there might be to encourage more ash interments to extend the capacity of our current urban cemeteries while still catering for those who prefer standard or natural burials.
There will be an opportunity to provide feedback on the draft plans in early 2023.
Waipā's Public Cemeteries
Cemetery Capacity
We need to plan for the future and ensure there is space in Waipā for our future generations to access suitable interment options.
Recently Council commissioned work to understand the capacity of each of our cemeteries based on our current standard burial to ash interment ratio, the need for critical infrastructure such as roads and parking and constraints such as topography and ground conditions.
The table below highlights the findings of that work.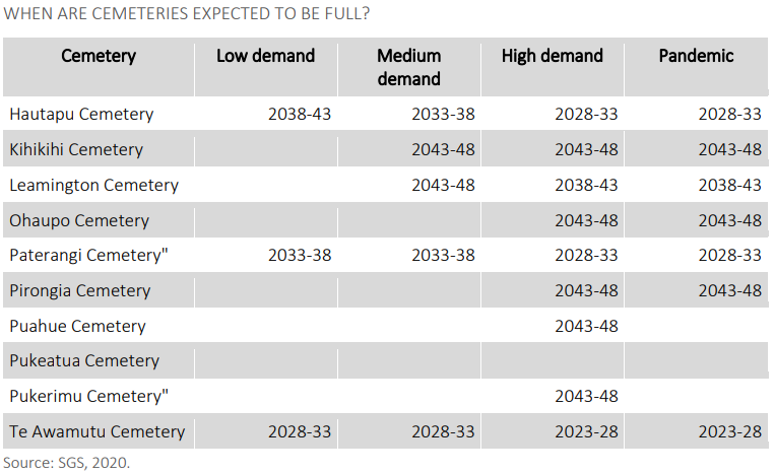 Burial Options
Find out more about casket, ash and natural burial options, as well as veteran and Returned Service Association cemeteries.