Te Ara Wai - Waipā Discovery Centre
Contents
Te Ara Wai's most direct translation is the path of memories' but it means so much more than that. Ara is to rise, to be awake to our past, and to have our eyes open to the future. Wai is representative of the water pathways across much of Waipā, and it's also reflective of who we were, who we are and who we will become.
Located in Te Awamutu, the Waipā discovery centre, named Te Ara Wai, will be a space where our community and visitors can discover the district's diverse and largely unknown social, cultural and natural history.

Stay in the loop
Join our enewsletter list and you'll be in the loop when we have news about this project.
Timeline
March 2019 - Architect confirmed
August 2019 - Launch of Te Ara Wai Journeys, phase one
Early 2021 - Construction of Te Ara Wai begins
2022 - Opening of Te Ara Wai
Want to know more?
Latest updates

What's ahead for 2019
Key project stages are getting underway for Te Ara Wai in 2019, so here's a summary of how the project is tracking...
Location
Te Ara Wai will be located alongside the Te Awamutu Library where there are unused buildings on Mahoe Street. We'll also be revamping the surrounding streets to make it more open and pedestrian-friendly. Proposed plans for this development will be shared later this year.
Design
In December 2018 four architects visited the site of Te Ara Wai. Each architect will deliver a presentation and be interviewed before the Waipā Discovery Centre Governance Committee make a recommendation to Council to appoint an architect. The design process will then take around 12 months before we see any construction.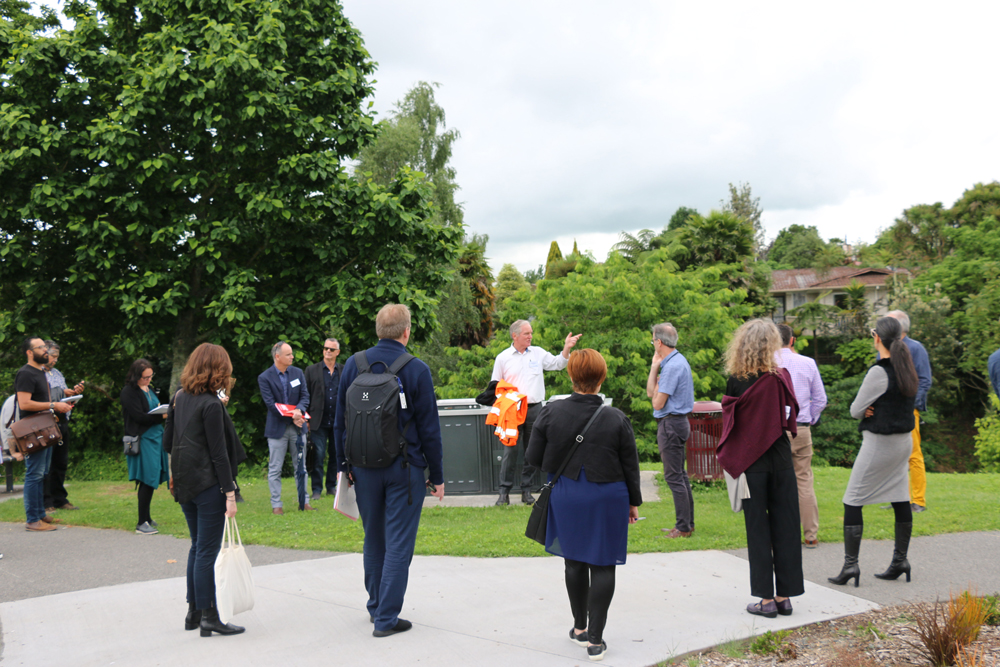 Tony Roxburgh, Waipa District Council's museum and heritage manager, briefs visiting architects.
Funding
We're applying for external funding and central government contributions to help fund the cost of this project. We should know the outcome of these applications around mid-2019.
Size
The building will be bigger than the existing museum and will allow for exhibition spaces, interactive zones, space to house and display our precious taonga, a research centre, a hub for education programmes, the Te Awamutu i-SITE, and a community gathering space. We're working to two different sizes until we hear the outcomes of our funding applications.
Te Awamutu i-SITE
The current i-SITE building on Arawata Street was built with support from the local Lions Club. Council will be talking to the community this year about how the space could be used in the future. The building needs maintenance and strengthening work if it's to remain as a facility for public use.
Closing the current museum
It takes time and patience to carefully pack away artifacts. This means there will be a period when the Te Awamutu Museum needs to close its doors and begin moving the taonga to its new home. We're still working on a timeline for this but will give you plenty of notice and some opportunities to watch the artifacts being packed.
Te Ara Wai - Journeys
Filming underway with Rāhui Papa at Karāpiro.
Filming is now underway to capture local stories that celebrate Waipā's heritage. A new website will host the videos plus other digital content to take users on an interactive journey through Waipā's heritage sites. Phase one will showcase Karāpiro, Lake Ngāroto and Pirongia township with the site to launch in August next year.
The website will guide visitors to each historical site from the nearest town. Once at the site, interpretive signage will allow visitors to follow the stories via their mobile device. As well as the videos the website will contain graphic novels, audio clips, infographics and maps.
Eventually Te Ara Wai will be the central hub for these sites where visitors can come and view artefacts in the Museum collection that relate to the stories they've learnt about, Roxburgh said. But there is plenty of work to do before then to ensure the many Waipā stories are better told to a national and international audience. Read more: Major project - Our significant sites.
The story behind the name Te Ara Wai
In October we announced that the Waipā discovery centre will be called Te Ara Wai, a name that was researched and proposed by Council's iwi engagement advisor Shane Te Ruki.
Te Ara Wai's most direct translation is the path of memories' but it means so much more than that. Ara is to rise, to be awake to our past, and to have our eyes open to the future. Wai is representative of the water pathways across much of Waipā, and it's also reflective of who we were, who we are and who we will become.
Experts bolster Waipā heritage efforts
A Governance Committee, including prominent national experts, has been set up to guide the planning of Te Ara Wai and sign off key decisions in the development of this new facility. This group includes:
Paraone Gloyne - National Tikanga Māori and Te Reo Māori Advisor, Te Wananga Aotearoa
Lee-Ann Muntz - Director Aotearoa Experience, Chair Tainui Waka Tourism
Glenda Taituha - Manager of Awards and Scholarships Waikato Tainui
Puawai Cairns - Head of Mātauranga Maori, Te Papa
Jim Mylchreest - Mayor of Waipā
Susan O'Regan - Waipā Councillor
Liz Stolwyk - Waipā Councillor
Andrew Brown - Waipā Councillor
The committee met for the first time on 14 August 2018 and elected LeeAnn Muntz as chair. They will be supported by a technical group covering the many work streams involved in the Discovery Centre and Te Awamutu town centre development projects.
Background to this project
One of the major projects signed off in Council's 2018-2028 10-Year Plan was the proposal to build the Waipā discovery centre. The current Te Awamutu Museum is extremely limited in the number and size of exhibitions can provide, and there's not enough space for storage of collections.
Known as Te Ara Wai, the purpose-built facility will provide a modern and inclusive space where people can discover our district's rich history. We expect to be ready to start construction from late 2019 with the building opening in 2021/2022.
Where is the Discovery Centre being built?
The Waipā Discovery Centre will sit alongside the Te Awamutu Library. To build here we will be removing existing industrial buildings that front onto Mahoe Street. Te Awamutu is considered the most appropriate location due to the large number of taonga which belong in this area of the district.
This area is part of a wider plan to develop an inviting, social and recreational hub for Te Awamutu, but also an area where people can learn about the rich and interesting history of the Waipā district. Learn more about our space in the heart of Te Awamutu.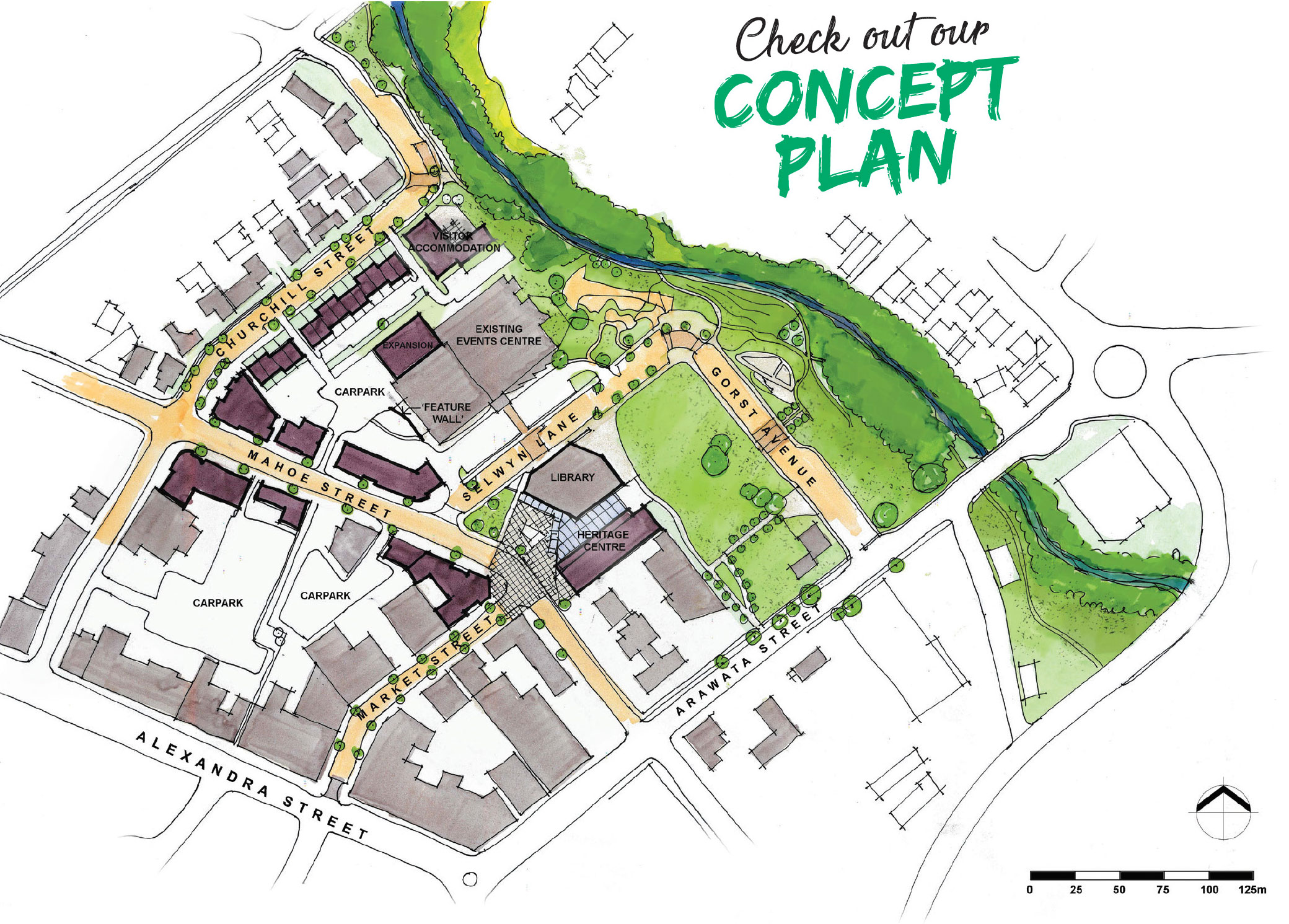 What will the Discovery Centre include?
Over the next 18 months (July 2018 - Dec 2019) we'll be exhibition planning and finalising the design and space of the building. In summary, the centre will include:
ever-changing exhibition spaces and interactive zones that tell our unique Waipā stories.
including the geological history, the period of early settlement, agricultural development, the land wars and land confiscation, through to Waipā today.
new and better space to house and showcase our community's precious and unique collection of taonga
stories that connect to the actual sites of significance in our district
a research centre and ability to offer more research services to our community
a hub for our school and education programmes
the Te Awamutu i-SITE
a community gathering space.
How much will it cost?
Through the 10-Year Plan, $12.4 million was budgeted for the design and build of the discovery centre. Council is also expecting external funding (such as fundraising and central government contributions) of around $5.2m. This means there will be a council contribution of $7.2m for the design and build.
Approximately $4.7m has also been budgeted over the 10 years for exhibition planning, design, development and installation.
When will it be completed?
Planning for a discovery centre takes time. The project includes designing exhibition spaces, identifying key sites across the district, developing an app and website, creating interactive zones, working with an architect to design the building, collection inventory, plus lots more - and that's before we even start building!
We expect to be ready to start construction from late 2019 with the facility opening in 2021/22.
What about everything else?
We know you're excited, so are we! But there's still a lot of decisions to be made. Things like opening hours, how long the existing Te Awamutu Museum will be open for and how we're going to celebrate the opening will all be confirmed in time.
Media releases