ANZAC Green, Te Awamutu
Originally known as the "Memorial Triangle", it is fitting that the entrance to this park features a prominent memorial in commemoration of the soldiers from the Waipa District who fought in the Great War (1914-1918). Today Anzac Green is an open civic space where visitors can enjoy park like surrounds in the heart of Te Awamutu's central business district.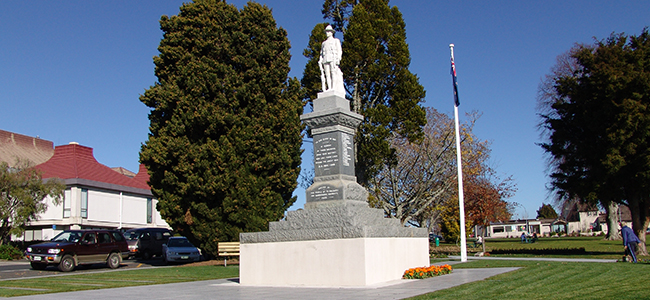 Details
Address: Cnr Bank and Teasdale Streets, Te Awamutu (Map)
Toilets: Short walking distance from ANZAC Green
Dogs: Dogs can accompany their owners on a leash.
Rubbish: Please take your own rubbish away with you although there are rubbish bins available for your convenience.
Playground: There is no playground equipment at this park.